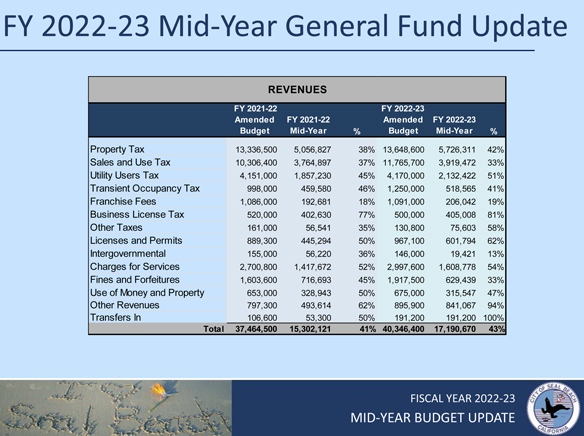 Seal Beach Treasurer/Finance Director Barbara Arenado presented the new council with a mid-year review of the budget on March 13.
Overall, according to Arenado's presentation, revenues from various sources are expected to come in on budget.
"The city is doing more with less," Arenado said near the end of her presentation.
District Three Councilwoman Lisa Landau said the city would have budget workshops in May and encouraged the public to attend.
The Sun asked the council members for their number one takeaway from the March 13 mid-year budget review.
"My number one take-away was that the City's budget forecast is for the most part as expected except for some external effects due to  inflation. There is an opportunity to pay down some pension obligations to save the City money and to use the ARPA funding received last year to leverage the use of $3.1 Million so we do not lessen its value due to inflation.  The strategic planning meeting on April 4th is a good way for the public to provide feedback to the City on this," wrote Mayor/District Two Councilman Tom Moore.
"My takeaway from last night's mid-year budget review was that there is a lot of economic uncertainty right now. Inflation is moderating but remains high, interest rates continue to rise, and consumer spending may be in decline," wrote District Four Councilwoman Schelly Sustarsic.
All of the above can all affect our city's revenues.  We will need to be very careful and data dependent as we plan for expenditures in the coming year," wrote Sustarsic.
"Though I was encouraged hearing that our income projections are better than expected overall, our overhead costs keep increasing. Coming up with a balanced budget for next fiscal year is going to be a challenge for Staff and the Council," wrote District One Councilman Joe Kalmick.
"The city is managing a slight decline in revenue with a great deal of caution and skill.  Our financial position is strong and we have disciplined and strong leadership.  Our revenues are 'soft' but our spending is well under control," wrote District Five Councilman Nathan Steele.
"My takeaway from last night's mid-year budget review discussion is that the City continues to be in a strong financial position; however, the City is not immune from the economic challenges affecting us all. As a result, revenue growth and increasing expenditures and retirement costs will be a challenge facing the City," wrote District Three Councilwoman Lisa Landau.