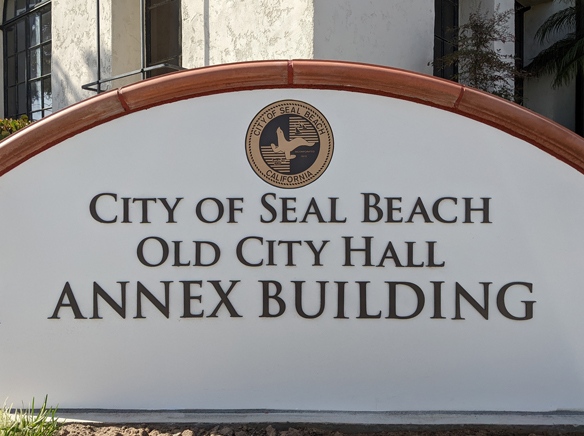 After every Seal Beach election, the council members who were elected (or re-elected) request appointments to various city boards and commissions.
The City Council on March 13 unanimously appointed new commissioners. There was a brief slide presentation. Some appointees were present and stood during the meeting.
According to the staff report by City Clerk Gloria Harper, as a result of the November 2022 regular and 2023 run-off elections "the four (4) year term of the Planning Commissioners, Recreation and Parks Commissioners and the Environmental Quality Control Board Members as well as other entities, for Districts 1, 3 and 5 expired, causing scheduled vacancies on the respective boards, commissions, or committees for which the legislative body has appointing power."
The commissioners' appointments will expire in December 2026, according to Harper's report.
District One Councilman Joe Kalmick appointed:
• Calvin Mingione to the Planning Commission. All of the appointees applications were attached to the agenda package. According to Mingione's application, he has a masters degree in urban and regional planning from UC Irvine, 10 years of experience as an urban planner, and currently owns an urban planning consulting firm. The previous District One planner was Steve Miller.
"First I want to thank Steve Miller for his service to the City as my District 1 Planning Commissioner during my previous term on the City Council," Kalmick wrote in a March 13 email. The email was sent prior to the council meeting.
"For my new term I have selected Calvin Mingione for the position. Calvin is an Old Town Resident, and has extensive experience in Urban Planning. We are facing several challenges in the upcoming years with regard to our Housing Element, reviewing and approving ADUs and Vacation Rentals under new State laws, and additional City-wide development as a result of RHNA State requirements," Kalmick wrote. RHNA, which stands for Regional Housing Needs Assessment, refers to state-mandated goals for planning residential housing.
"He is looking forward to meeting his fellow commissioners, and is anxious to get to work," Kalmick wrote.
District Three Councilwoman Lisa Landau appointed:
•Susan M. Perrell to the Environmental Quality Control Board. According to Perrell's application, she has a bachelor of science degree in geophysical engineering, spent seven years as a project manager for "some of the largest hazardous waste site cleanups in the United States," served 10 years as an environmental adviser for a multi-million dollar company, and spent seven years managing land use planning and permitting with multiple local, state, and federal agencies. The previous District Three Board member was Richard Coles.
Perrell said during the meeting that she would try to do her best.
• Lorenz Krueger to Recreation and Parks Commission. According to Krueger's application, he has lived in Seal Beach for 50 years. "I worked for the Recreation Department and was involved with many of the community events including managing parks, developing and managing recreational activities, as well as decision making meetings for the community," he wrote. "As a retired College professor, my background is in communication and I believe I can be an asset to the Community."
• Richard Coles to the Planning Commission.
According to his application, he spent more than 40 years in the engineering and construction industries. He has a bachelor of science degree in environmental engineer and an executive MBA. Landau said he had been part of the Environmental Quality Control Board for eight years.
The previous District Three planner was Michael Thomas.
District Five Councilman Nathan Steele appointed:
• Donald Horning to the Environmental Quality Control Board. According to his application, Donald Horning Horning was a technical expert in his last position before retiring from the Department of Veterans Affairs, Veterans Health Administration.
• Hope Horning to the City Tree Advisory Board. In her application, Hope Horning served on the parks board in another state and developed an interest in urban forestation. Her undergraduate degree was in political science.
• Marilyn Van Dyke to the Coyote Committee. Van Dyke wrote on her application that she is the current publicity chair of the Woman's Club of Seal Beach. She spent two years at Cerritos Community College and has lived in Leisure World for 9 and one-half years. She checked environmental infrastructure as areas of interest and wrote in "historical" as another area of interest.
Steele said that some of his neighbors walk their dogs with a 7 iron in hand to protect their dogs.
• Marilyn Van Dyke was also appointed to the Historic Preservation Committee.
• Margo Wheeler to the Planning Commission. Wheeler wrote that she was chair of the Flagstaff, Arizona, Planning Commission from 2016 to 2020, and a a member of the Burbank, California, Planning Commission from 1994 to 1996, and served as a planning director for seven California cities including Bellflower and Palm Springs, from 153 to 2000, and from 2011 to 2014.
The previous District Five planner was Mariann Klinger, who ran against Councilman Steele in both the November election and the runoff.
• Peter Franck to the Seal Beach Cable Communications Foundation. Franck wrote that he recently retired after 50 years as an attorney. "I have long held an interest in media and communications," he wrote.
"For many years I chaired a lawyers group: The Committee on Democratic Communications. We participated in international discussions (centered in UNESCO) on what was then called the 'New World Information and Communications Order'. Later we were successful in convincing the Federal Communications Commission (FCC) to authorize a new locally oriented low power radio service (LPFM). This made it possible for local stations, such as Long Beach's KLMP to emerge and obtain licenses."