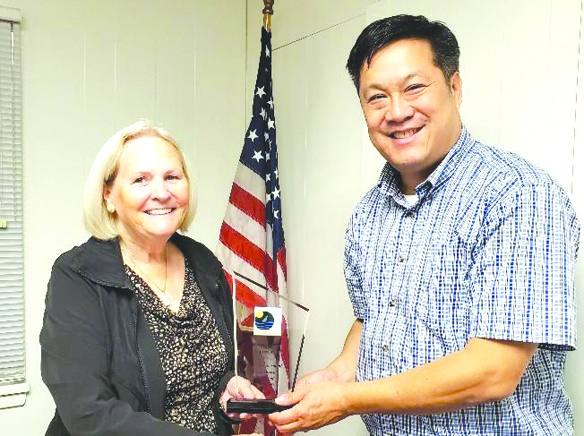 The President of the Board of the Rossmoor/Los Alamitos Area Sewer District, Van Jew, recently presented awards to the General Manager, Susan Bell for 15 years of dedicated service, along with Director Linda Habermehl, and Director Jim Bell for 15 years of service on the Board of Directors.
Susan Bell, General Manager
Ms. Bell grew up in Rossmoor since she was in Elementary school. She has been very active with the community since. She graduated from Los Alamitos in 1985 and started her own family soon after. She has two grown daughters and one grandson. Susan represented the City of Los Alamitos in the Miss California Pageant in 1985 and 1986.
She was very involved with multiple Chamber of Commerce events and helping with ribbon cuttings and Chamber mixers. She then went on to be the Director of the pageant the following year.
Susan has worked with the Rossmoor/Los Alamitos Area Sewer District as the General Manager for 15 years since 2004. She came from an International Sales Management background that worked with Aircraft sales throughout the world. She has enjoyed working for her local hometown where her heart will always be. Her grandfather was one of the first men that started the Sewer District in 1952. She is proud to follow in her Grandfather's footsteps of taking care of business.
Susan Bell volunteers for the Royal Family Kids Camp for abused children throughout L.A. and O.C. county. She also has worked with the Los Alamitos Youth Center as the Director of Gymnastics and All-Star Cheer programs. Susan is currently volunteering on the Board of Directors for the Los Alamitos Museum.
Linda Habermehl, Board Director. Position: Board Member
On Dec. 13, 2004, Linda Habermehl was sworn in as one of 5 board of Directors of the Rossmoor/Los Alamitos Area Sewer District. She will hold a two-year term on the Board. She comes with great experience in the public works industry.
Linda Habermehl has lived in the Rossmoor/Seal Beach area since graduating from Long Beach State. For the last 15 years, she has worked in Contract Administration of Public Works contracts. First for Freeman Engineering, then the City of Carson and finally Los Angeles County, Department of Public Works, Construction. She has inspected underground construction most of the time.
Linda inspected sewer contracts for new and rehabilitated sewers. Being involved on one project, which lined 5 miles of sewers in East L.A. Currently, she is in the Permits and Subdivisions Section of the County Construction Division where she inspected new sewers in subdivisions and works with homeowners in having their sewer house connections repaired.
Jim Bell, Board Director. Position: Board Member
Director Bell has resided in Rossmoor since 1977, with his wife of 55 years, Marilyn. They have four daughters that all graduated from Los Alamitos High School. They have nine grandchildren, and six great-grandchildren.
Jim grew up in the City of Los Alamitos since he was 6 years old with his sister Sylvia, and his parents Jim & Evelyn Bell. Jim's father started the Rossmoor/Los Alamitos Area Sewer District in 1952 with a few others. Jim's father was also the First Mayor of Los Alamitos in 1960.
Director Bell retired from his own business, Bell's Backhoe Service of over 25 years. He worked for McDonnell Douglas 11 years and before that as aircraft field systems testing inspector. Jim Bell is also a recording artist and has several albums out. Singing has always been one of his biggest talents.
Director Bell has been on the Board of Directors for the Rossmoor/Los Alamitos Area Sewer District since he was first elected in 2004.