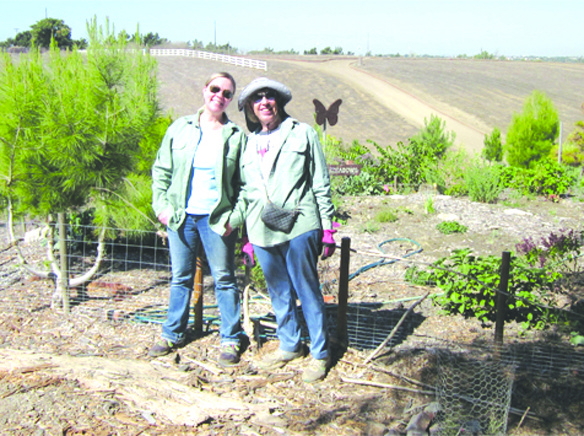 A three-mile trail from Huntington Central Park to the Pacific Ocean is being brought to life by dedicated area volunteers.
"The Shipley-to-Shore Nature Trail provides us a rare opportunity to restore the land to its natural beauty and create a path where everyone can enjoy fresh air, see beautiful birds, colorful butterflies and panoramic views, while exercising themselves, their horses and dogs," said Jean Nagy, a volunteer from Huntington Harbour, who helped found the Huntington Beach Tree Society and oversees the trail project.
"Working on beautifying this spectacular trail is like being at Disneyland for people who love to garden," said Suze Dodd of Belmont Shore, another regular volunteer. "We're creating a sensational Hummingbird Garden, an Oak Forest, a Butterfly Meadow and much more."
Volunteers—local area residents, Boy Scouts, Brownies, students and even teachers from Orange County and Long Beach—pitch in to make this dream path a reality. Mark Rudig, an Estancia High School English teacher, spends several hours a week planting baby oak and redwood trees—some of which he purchased. "There aren't many spots like this left and we really need to preserve open space in our urban cities," said the Huntington Beach resident.
The Seal Beach Sun News regularly donates old issues to help stop the growth of weeds along the trail and Urban Forest.
"We put the newspapers on the ground, around plants and trees," explains Nagy, President of the HB Tree Society. "We then place 6-inches of woodchips on top of the papers. The newsprint disintegrates, preventing the growth of weeds."
More than 1 ½ miles of the trail is completed (or nearly finished) through Central Park (from Shipley Nature Center (off Goldenwest Street), past Huntington Lake, up hills–near the Equestrian Center & Urban Forest–then along Ellis Avenue to Edwards Street. The Tree Society is working with the County to continue the trail from the Edwards Stoplight down through unincorporated land, by the city's Overlook Park to Seapoint Street, through Wieder Park to the Pacific Ocean. The portion from Garfield Avenue to Pacific Coast Highway already exists.
The trail is already being enjoyed by runners, hikers, equestrians, photographers and even an annual High School Cross Country Invitational, which draws participants from other states.
"It also definitely enhances neighborhood appeal by providing a pedestrian and bicycle friendly path," said Steve Durant, a local property owner. "It sure beats having to walk or bike along the Slater Avenue levee to the Bolsa Chica Wetlands and Ocean."
"We are incredibly fortunate to have such committed volunteers, who donate hundreds of hours to beautify the new trail, Urban Forest and other parks," said Lyn Semeta, Huntington Beach Mayor Pro Tem. "Thanks to tireless advocates like Jean Nagy, along with citizen donations and a grant (the city received from the state), this fantastic trail is providing a much needed respite in this increasingly busy world."
"To complete the trail, we need 4-by-4 trail liners, big boulders, 4 large Oak Trees and funds to finish the Hummingbird Garden and purchase other native plants," Nagy said. "We're also always looking for more volunteers and tax donations (all of which are deductible)."
Three "tree-ific" ways to donate are: Visit GoFundMe.com/Shipley-to-Shore-nature-trail; Go to hbtrees.org & click Donate, or mail checks to Huntington Beach Tree Society, Inc., P.O. Box 1269 Sunset Beach, CA 90742. You also can call Jean Nagy with any questions at 562-760-0733.