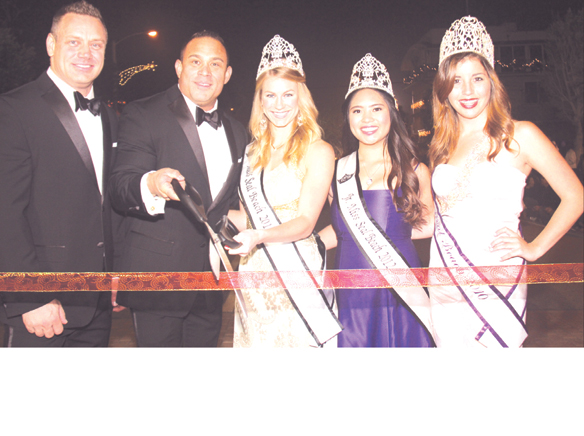 Eaker had a lasting impact on all who crossed his path
For the Sun
Seth Eaker found, in Seal Beach, a safe community where he could make a difference for the better. And make a difference, he did. Seth worked tirelessly to serve his community. He carried with him, a helping hand, a warm embrace and a friendly smile.
Those traits were taken from the community with the passing of Seth, on Dec. 18, at the age of 46. Seth will always be known for his enormous body of work through his volunteerism in Seal Beach, but his life and impact reached far beyond his beloved small town, touching loved ones across the country and around the globe.
Whether you knew him for a day or for a lifetime, he had a lasting impact on all who crossed his path. In his daily life, Seth spread the word that "kindness matters" and reminded us through his actions that we should always strive to "come from greatness." From a very young age, Seth was filled with curiosity and awe of the wonderful world around him. His insatiable thirst for life led him to be a voracious reader with a quest to learn as much as a possible from the brilliant minds around him and those who came before him.
Seth's unparalleled love and dedication to family was well known and their love and lasting commitment to him helped to form the remarkable man who touched so many lives. Family have shared some memorable stories that tell a lot about him.
His loving husband, Anthony recounted their family Christmas gathering just last week, "After dinner, we gathered together in the living room, singing Christmas carols and playing a rousing and competitive game of 'Name That Tune of the Decade,' which Seth was winning, hands down," he recalled. "It was only at the end of the game that I noticed he had his iPad open and was using Shazam to identify the songs!"
Anthony and Seth had homes in both Seal Beach and in Macau, China.
Seth was always a step ahead of the rest of us!
"When Seth was a small toddler, barely walking, he would come into my art studio," began his mother, Marcia, "and ask about what I was creating. We would talk about the piece and he would toddle off. On one such occasion, he came back into the studio sometime later and said he wanted to show me something," she continued. "He led me into the hallway to reveal a system he had created with string formed in laser-like patterns connecting the doors to each room off of the hallway. He let me take it all in for a moment and then he closed the first door and we watched together as each of the other doors systematically closed, changing the still perfect laser pattern," she concluded.
Even as a small child, he was interested in how everything is connected, and the impact one piece or person has on the whole.
His stepfather, Jim shared the story of his first introduction to Seth, "Marcia brought him to my home in Dana Point and I opened the door to the most beautiful 4-year-old boy I had ever seen. Before I could greet him, he asked me if I was an electrician. Puzzled, I answered 'no, I'm Jim,' to which he replied, 'well I am, let me show you,' and he walked past me, into the house to a clock that was showing the wrong time and fixed it," he said. "From that moment on, he had complete control over me."
His father, Alan shared an experience from when Seth was 9 years old. "Every year, we took camping trips to the Pisca National Forest in North Carolina," he recalled. "I was fishing and Seth, dressed in full camouflage, was sitting on a nearby riverbank reading On Walden Pond and lunching on triscuits and four flavors of squirter cheese," he mused. "At the end of the day, we took a photograph to commemorate our adventure; me holding my catch and Seth clutching a huge, beautiful tiger lily."
Seth's former stepmother, Barbara recalled the first time she took him to the local library, "He walked through the doors and stopped, stunned by the vast number of books lined up and waiting for him to check out, read and cherish," she said. "He referred to his library card as magic! He had a fascination for all things magic; the magic of books, the magic of Christmas, the magic of magicians and the magic of the unknown," she said.
Many readers will recall the regal, purple lined "magic cloak" Seth wore as Grand Marshall of the 2012 Christmas Parade, made for him with love by Barbara. Anthony Morgan rode with him in the parade.
In a recent newsletter to area Lions Club members, Lions District Governor Mark Piva paid tribute to Eaker, and wondered if the man ever slept?
In 2007, he joined the board of directors for the Seal Beach Chamber of Commerce, where he also served as Vice President, President, Past President, and Chair of the Car Show and Governmental Affairs. He served on the board of Run Seal Beach as a Secretary. He served as Chairman of the West Orange County Legislative Committee and was named Small Businessman of the Year by the Seal Beach Chamber of Commerce and Grand Marshal of the Seal Beach Christmas Parade in 2012 – 2013. In 2014 he was named Seal Beach Citizen of the Year by Cypress Community College. He was closely affiliated and a significant contributor of the Los Alamitos Education Foundation (LAEF) and The Youth Center in Los Alamitos. Seth was one of five members of the Seal Beach (Salon Meritage) Victim's Fund, a founding board member of the Seal Beach Police Foundation and served on the Seal Beach Centennial Committee.
Seth was a tireless member and 2017-18 past-president of the Seal Beach Lions Club and was Chair of the Global Leadership Team of the California Lions Club District 4-L4, organizing and facilitating leadership, training and development for the 34 regional Lions Clubs within this district, affecting approximately 1,250 Lions. He received the Lion's District 4-L4 Leadership medal, the Lion's President's Medal of Courage and two Melvin Jones Fellowship awards. Last January, Seth completed the Lion's Faculty Development Institute, which qualified him as a "credentialed" member of the Lions Club faculty as an official Lions Club Institute (LCI) Presenter.
Seth's influence on all of our lives carries on through our own special memories of him. "He had a meaningful and lasting effect on my life, and I am forever grateful to have been his business partner, friend and chosen family," said Deb Machen, past Seal Beach Chamber President and family friend.