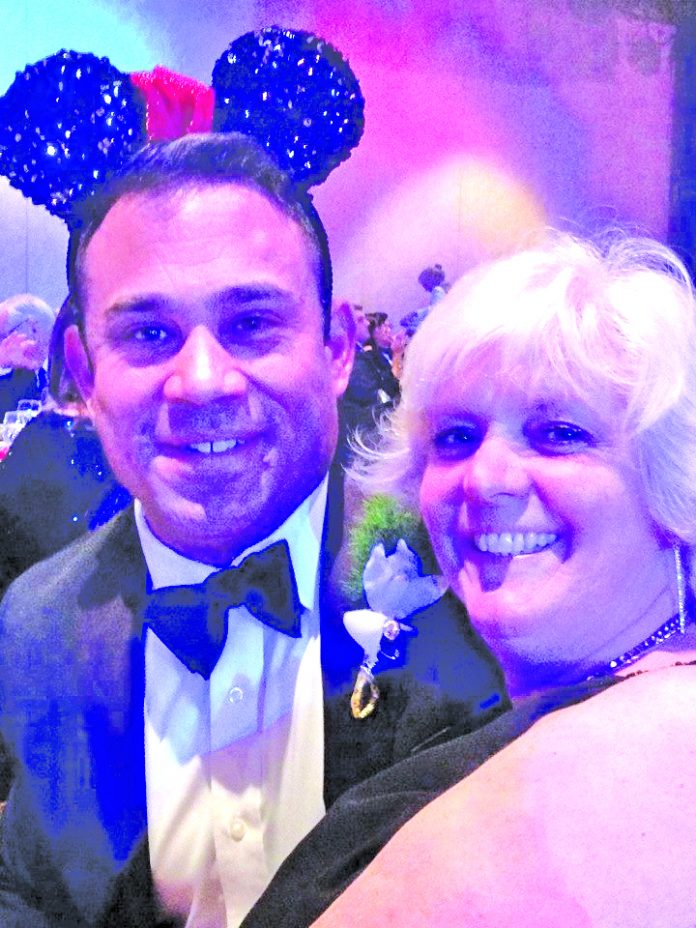 Gathering for Seth Eaker-Morgan held hours after his passing
A friend called him an icon. He had a multitude of friends.
At least 150 people attended an informal gathering in honor of Seal Beach resident and activist Seth Eaker-Morgan hours after he passed away unexpectedly at age 46. He died around 10 a.m., Wednesday, Dec. 18. The gathering was held that evening at the Marina Community Center.
The date of formal services has not yet been announced.
Most of the chairs at 15 tables in the Marina Center were filled last week with people and approximately 30 more people stood in line to speak or stood at the back of the room.
Approximately 25 of those attending spoke about their lost friend, including Seal Beach Lion Scott Newton, Grace Community Church Pastor emeritus/SBPD Chaplain Don Shoemaker, Seal Beach Police Chief Phil Gonshak, Police Commander Steve Bowles and others, as well as Eaker's husband Anthony Morgan and his mother Marcia Brashier.
Businessman Jim Klisanin told a story about Seth that ended with Seth saying that the thing he liked about Klisanin was that he always asked how Anthony was doing. He described Anthony as the love of Seth's life.
"If Seth didn't know you, he'd stop you and let you get to know him pretty quick," Klisanin said.
Klisanin looked skyward and said: "Seth, put in a good word for me—because I'm going to need it."
Newton said Seth touched everything.
"This is more than the loss of a man, it is the loss of a community icon," Newton said.
"Seth was really Mr. Seal Beach."
Newton said Seth emceed every event in town at least once. "He was a man in this town that would challenge the status quo," Newton said.
And he had so much energy, according to Newton.
Shoemaker said he counted it a joy to have known Seth. "The community has lost a very special person; I have lost a very special friend," Shoemaker said. Shoemaker also paid tribute to Seth in a recent email to
Carrie Logue of the Los Alamitos Education Foundation described him as the most caring per-son in Seal Beach. She also described him as "whip smart" and "fiercely loyal."
Chief Gonshak said he and Seth often discussed his thoughts about law enforcement practices. The civilian and the police did not agree on some issues. "Man what an amazing soul he was," Gonshak said.
The policeman said Seth wouldn't want people crying. "Remember to rejoice in one another," Gonshak said.
"To Anthony, whatever you need, my friend," Gonshak said.
"I would say he made every one of us a better person," said Laura Ellsworth.
"Seth was the personification of doing it now," said Esther Kenyon.
Bryce Turner, Seth's business partner in Beach Fitness, described him as loud and flamboyant and said he would make everyone crazy.
"If you worked with Seth, you got 150%," Turner said.
"If Seth were here, he'd pick me up—because he did that all the time," said Deb Machen.
"Thank you all for coming," Machen said. "He would have loved all this attention."
Past Lions Club District Governor John Schroeder described a leadership conference he and Seth worked on. After the event, he told Seth, "I'll miss the banter you and I had."
Seth said: "Well, PDG John, I'll miss the repartee."
Schroeder said Eaker taught kids how not to be afraid to be themselves.
Eaker's spiritual advisor, Reverend Tia Wildermuth said the opening and closing prayers for the ceremony.
His mother Marcia Brashier thanked the community for honoring her Seth.
In an email to the Sun, District Two Councilman and outgoing Mayor Tom Moore said, ""It is hard to comprehend that Seth is no longer with us. He was always full of positive energy wanting to help the community and help others. Seal Beach is such a small friendly community that it almost feels like someone in my family passed away. Seth would be at almost every Seal Beach event since I was elected and we would talk (quite a bit sometimes) every time I saw him. My son Evan got to know him in helping out with the LEOS as well. He was a dear friend and I will miss him greatly. My heart goes out to his close friends in the Lion's club and Seal Beach community as well as his family."
Seth Eaker-Morgan was a frenquent contributor to the Sun News.