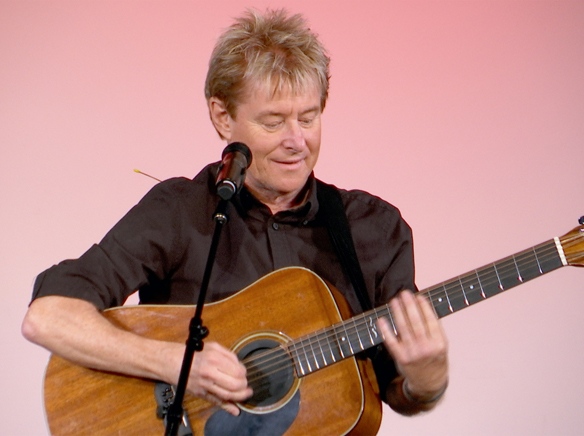 Rossmoor is approximately 2,170 miles from the Indiana cornfields that produced local musician Terry Miller.
Miller, a pastor for the past 22 years, has also been a corporate executive and a working singer/songwriter since leaving the countryside that measured distance not by miles, but "how many cornfields away."
In an interview this week, Miller said he hopes to combine all his skills to organize and perform a "Bluegrass Gospel" concert Feb. 4 at the Rush Park Community Center in Rossmoor.
"The music I write is about living a real life as a Christian," said Miller.
Miller, orphaned as a youth, grew up in Indiana. He says he was fortunate that his adoptive parents allowed him to take music lessons back in Indiana, and Miller says he was truly blessed to learn from a music pro who just happened to be giving lessons.
"I learned to write and read music," says Miller, who plays multiple instruments and has toured professionally. Miller said the Feb. 4 concert will feature his band and special guests, including a banjo player from deep in bluegrass country.
"We're bringing people together to celebrate what they have in common," said Miller. "I think it is much more effective than talking about why we're divided."
Differences are biblical, said Miller, "but there are things we have in common. It's about hope," he said. Miller has frequently coordinated the National Day of Prayer in Rossmoor by organizing with other pastors.
Miller said while the upcoming event "will be fun," that it has a serious side as well, noting that he and his wife Debra plan to introduce their new ministry, entitled "Calling all disciples," to the public, a program of "teaching and training for both men and women."
Miller said that during his ministerial career, he has focused on "personal discipleship." He said discipleship is "not as prevalent in churches today, so this new ministry may be interesting to people with a calling and seeking personal growth."
"The music is about the gospel," said Miller, "and I'm not going to run away from that. We're just going to put It out there," he said.
"If you've been to one of our concerts, you know the music I love and write has its roots in timeless Americana-style Southern Gospel," he said, including blues and bluegrass.
"Joining me will be some of the finest, and fastest, banjo, mandolin, fiddle and dobro pickers this side of Nashville," said Miller. "We'll get them singing and clapping to classics like 'Won't Be Going To Your Church No More,'" said Miller, pointing out one of his more famous gospel tunes. "There will also be lots of Gaither-style Gospel favorites like "Because He Lives" and "I'll Fly Away."
Miller said he was happy to be able to rent the Rush Park facility since it is close to their home in Rossmoor.
The event begins at 6:30 p.m. and tickets cost $22, he said. More information is available at www.callingalldisciples.com.