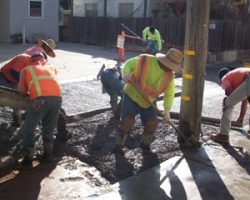 A crew from the city's contractor, Nobest Construction, is rebuilding the Seal Way alley. This is a $1,506,500 project. The city of Seal Beach is making good progress on a street rehabilitation program to numerous streets in Old Town. When the city repaves a street, the parkways are updated.
The parkway is property that lies between the curb and the sidewalk.  This area between the sidewalk and the curb is typically 2- to 4-feet-wide and usually contains grass, although sometimes there are brick pavers, rocks, concrete, etc.  The city will initially remove all concrete parkway areas, plant grass and water for one month to establish the planting.
By diverting storm-water from impervious areas such as concrete parkways, the amount urban runoff can be reduced. This can be achieved through landscaped areas where water can seep into the ground. Although the area of the parkway directly in front of your home does not seem much, collectively it is a large portion of city property that can help improve ocean water quality.  Hardscape, such as concrete, does not allow for any seepage into the ground.  Residents may choose to landscape the parkway with plants other than grass.  Native plantings must not exceed 1 foot in height.  The city will also allow concrete pavers to be installed in lieu of grass in the parkway.  Pavers are set in sand and storm-water can drain through them.  Residents must get approval from the Department of Public Works to install pavers.
The city will install pavers in front of a residential property during this construction project if the resident purchases and supplies the concrete paver.  Residents can contact the Public Works Department to discuss which concrete pavers are approved.  Construction is scheduled to be complete in August of 2010.  After this time the city will not assist with installation of the concrete pavers.For more information, call Project Manager David Spitz at (562) 431-2527, extension 1331.
Photo courtesy of the city of Seal Beach