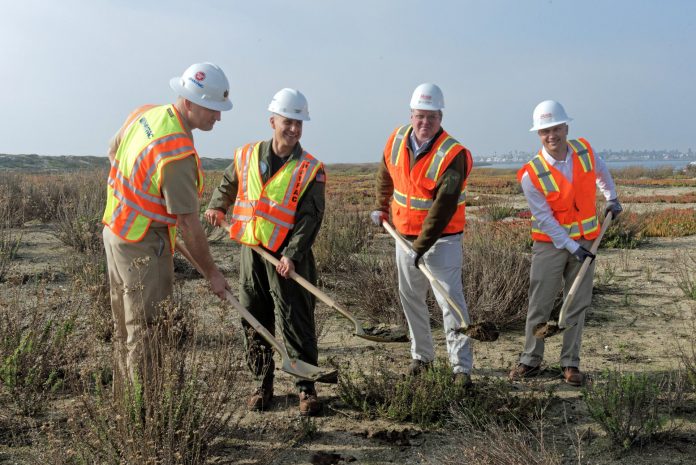 The groundbreaking ceremony for a major enhancement to the Navy's Pacific Fleet ammunition support capabilities was held onboard Naval Weapons Station Seal Beach December 13.
The project will construct a 1,100-foot-long replacement ammunition pier and will include a larger ship turning basin and a new public navigation channel that will separate Navy vessels from civilian boats traveling through Anaheim Bay.
"Today's event celebrates the culmination of over four years of detailed design and environmental analysis, and the beginning of construction activities that are anticipated to take five years to complete," said base Public Works Officer Lt. Cmdr. Nigel Morrissey.
"This day was a long time in the making," said Commanding Officer Capt. Jason Sherman. "The general concept and alternatives development for this project were started over 15 years ago, and have been constantly improved upon."
"The project will have significant benefits for both the Navy and the surrounding community," said Sherman.
Benefits will include a new, larger ammunition pier built to the latest standards, the ability to simultaneously dock two medium sized ships or one large ship, enhanced safety and security for base operations, and fewer disruptions to civilian boating activities.
"This has really been a team effort across multiple commands, involving everyone from planning and environmental staff to the crews running our port and munitions operations," said Sherman. "I'm really looking forward to seeing our plans become reality."
Naval Weapons Station Seal Beach is the primary munitions installation for the Navy's Pacific Fleet surface ships. Its primary role is to store and maintain Navy and Marine Corps munitions and load and unload Navy ships and larger Coast Guard vessels with the weapons they need to conduct their missions.