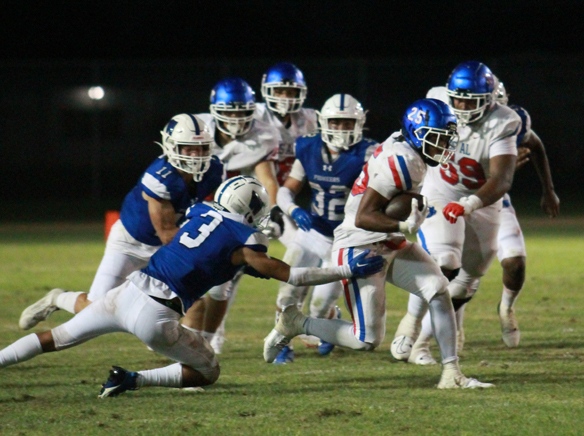 Despite a slow start, the Los Alamitos High football team was able to make enough plays to run away from Western High for a 63-25 victory in their season opener on Friday at Western High. The Griffins got 287 yards and six touchdowns from running back Anthony League as the offense began to wear down the Pioneer defense late in the game.
But the Pioneers have some speed and skill on their side of the ball and early on, they were able to break some big plays of their own. Western scored first on a pass in the flat that caught the defense taking too sharp of an angle on the ball.
Joshua Faulkner caught the pass and was able to get around the corner and sprint for a 65-yard touchdown that gave the Pioneers an early 7-0 lead. Griffins Head Coach Ray Fenton said his team was too mistake prone, including penalties in the early part of the game.
"You know as far as execution-wise with so many penalties we had, right?, that's a poor job on our end," Fenton said.
Late in the second quarter, the Pioneers were able to put together a scoring drive that pulled them to within 14-13, after a failed point-after conversion attempt with 3:08 left in the halftime. But the Griffins turned the tide quickly. Western was using pooch kicks to try and keep the Griffins kick returners from making big returns. But on the short kick, junior Taeden Rogers grabbed it and found a seam down the sideline for a touchdown to push the lead back to 21-13.
The Griffin defense then held the Pioneer offense and forced a turnover on downs. The Griffins struck quickly as League broke a run for a 31-yard touchdown that gave the Griffins a 28-13 lead heading into halftime.
Fenton said that the emphasis this week in film would be determining why the team was making mistakes and taking too many penalties and try to clean up those mistakes. But he also liked what he saw when the team was clicking.
"I thought the offense did some good things, we're obviously very talented on offense … we just have to see why we're making so many mistakes," Fenton said.
The Griffins will play their first home game on Friday with 7 p.m. game against La Serna at Veterans Stadium, Long Beach.