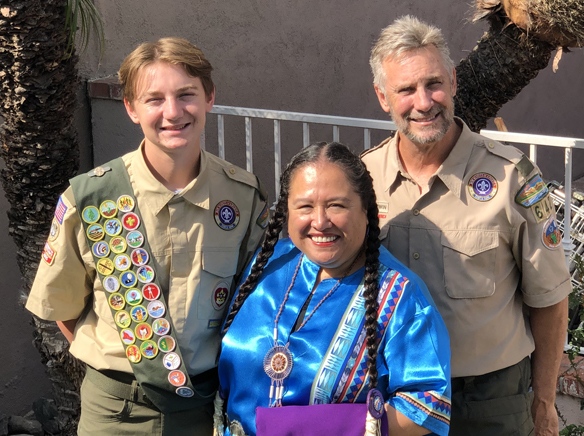 Los Alamitos High School junior Andrew Baldwin is on a mission to help people in need on the Navajo Nation Reservation in Tohatchi, New Mexico.
For his Eagle Scout Project, the 16-year-old from Troop 642 Rossmoor/Seal Beach recently launched a fundraiser aimed at supporting St. Mary's Mission Community on the reservation.
The Navajo Nation has been hit especially hard by COVID-19, with more than 1,400 people dying from it. Families are also suffering from the pandemic's economic toll.
"I personally would like my Eagle Scout Project to have a big impact," Andrew said in an interview. "I think it's good for us to reach out to people in need."
Andrew is accepting donations to purchase and assemble care packages for families that include basic necessities like flour, sugar, masks, and hand sanitizer. He's also packing up knapsacks with school supplies for children. He's due to deliver them in-person on Nov. 12-13.
In addition to monetary donations to purchase the goods, Andrew is accepting other items including canned goods, and office and school supplies.
Andrew's stepmother, Gloria Littlemouse, is Navajo and has been helping him in this effort he said he's been planning for months. Earlier this month at their Rossmoor home, she was cooking up Navajo frybread, what she calls a staple for Native Americans, and selling it as part of a fundraiser to help Andrew's effort.
"I am so grateful and proud that he chose to help my people," Gloria beamed while delivering freshly baked frybread. "I couldn't be prouder."
At the frybread fundraiser, neighbors, friends, family, a lot of fellow scouts and even Andrew's high school tennis coach came out to support the effort.
"I'm pretty happy," Andrew said at the sight of his coach. "I did not expect him to come," he smiled. Someone from the nearby Los Alamitos Medical Center even called in an order for frybread.
As of press time, Andrew had raised $5,100 on his GoFundMe page thanks to generous donations from the local community.
Littlemouse said Los Alamitos-based dentist Dr. Sandra Yee is donating 50 toothbrush, toothpaste and dental floss kits for the knapsacks.
"Wow!!! I'm in tears," Littlemouse wrote in a text message sharing the news.
Andrew's father, Rick Baldwin, said his youngest son has always liked to challenge himself noting he wanted to do something ambitious for his project to become an Eagle Scout, the pinnacle achievement in Boy Scouts.
"I expect really big things," he said of Andrew.
Andrew said he was inspired by his older brother Matthew's Eagle Scout project of donating soccer balls to children in Argentina.
He recounted the story of bringing specialized soccer balls to young kids and seeing their reactions. Andrew said he hopes his delivery of supplies to families in need will leave a lasting impression.
"I would like [Navajo Nation families] to remember a Scout of America helped them and perhaps one day become a scout or have their children in scouts," Andrew wrote in his statement on the GoFundMe page for his project. "This will be an amazing 'Good Turn' and only possible, with your help."
There's still time to support Andrew. Visit GoFundMe.com and search "Andrew's Navajo Covid-19 Eagle Scout Project" to donate and find out more.