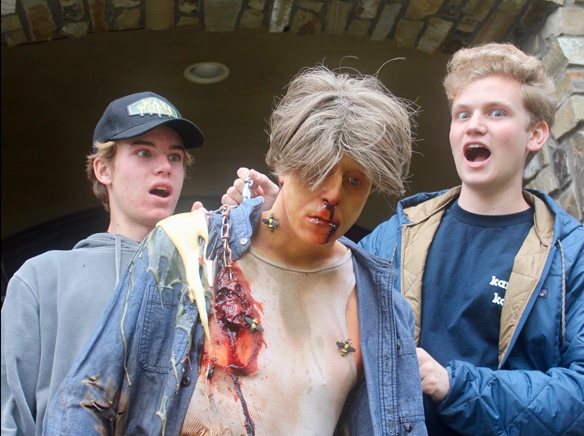 William "Will" Brandenberger got hooked on haunted houses around the time he was learning to read.
The Los Alamitos High School senior recalled being in kindergarten at Rossmoor Elementary when he saw something intriguing through the fence from the schoolyard. He could not stop staring as a man and woman put up an elaborate Halloween display in their front lawn.
"They would set up during my school day and I spent hours watching them," Will said in a recent interview.
That home belongs to Mike Hearn, who became locally famous for his cemetery-themed display featuring dozens of zombies and monsters that amused kids for nearly two decades.
At 6-years-old, inspired by Hearn, Will was determined to set up his own haunted house. It became a passion that over the years lead to frequent visits to Hearn's house and a piling up of spooky décor and gory animatronics in Will's parents' attic.
"I would ask for Halloween decorations for Christmas," Will said. As he got older he started saving up his own money to purchase custom-made macabre props and eerie decorations, some costing hundreds of dollars each.
Trips to local theme parks fueled Will's creativity as he crafted a story to bring together the skeletons, fake corpses, and warning signs drenched in wax in what today is WaxWorks Home Haunt, an attraction that encompasses his family's entire front yard and driveway. It's inspired by a maze with a similar name at Knott's Scary Farm.
Will has been staging a version of the eye-popping display for about six years, adding new items and features annually, and treating his Rossmoor neighbors to a frightfully fun time.
Will estimates it attracted a thousand visitors last Halloween.
But as Will prepares to graduate from high school and head to college, he's saying this will be his last year putting it on.
On Monday, Will and his good friend, fellow Griffin and partner in scaring, Blake Brennan, were setting up projectors to simulate flames, adjusting lasers, and testing a loud speaker blaring scary music as they prepared to welcome people to a preview night of WaxWorks.
The clouds were grey, rain was falling and an eerily realistic prop of a man's bloody torso hung from a hook outside Will's garage. The two teens had huge smiles on their faces as they worked.
"I want people walking away amazed," Will said.
Will and Blake are both part of the experience and bring the fictional story of WaxWorks to life. Will plays Augustus Scratch, a deranged doctor who inherited his father's burned out wax museum where visitors end up becoming victims on display. Blake is the sculptor who shapes the wax figures. Together they lead people on a five-minute tour through the ghoulish scenes eliciting screams along the way.
'It just gave me chills'
Hearn, the neighbor who first inspired Will with his Halloween decorations, visited as the boys were setting up on Monday. Hearn said that he stopped doing his own Halloween attraction in 2013, a few years after his wife died of cancer, according to the OC Register.
"She loved Halloween," he recalled. Decorating was something they loved to do together but Hearn said it just wasn't the same after her death.
"I do miss it," Hearn said but added he's loved seeing Will carry on the Halloween tradition.
"When I first came over, it just gave me chills," Hearn said of seeing Will's decorations.
"You're the reason why it's here," Will said to Hearn gesturing toward his display.
Hearn has helped Will along the way and even gifted him his first animatronic. The life-sized witch named Agatha that asks, "where's the beef?" was positioned next to the front door of Will's house by something the teens called a laser swamp.
"That's my favorite," Blake said of the "swamp" which utilizes seven strategically-placed lasers and fog machines to create a murky mirage.
Will's mother Amy Brandenberger said she and her husband think it's great their son is so passionate about his Home Haunt.
"We're supportive," she said. "It's fun for us too."
"I used to have cute, whimsical Halloween decorations and it's transformed to this," she said, musing at the creepy display.
"I think this is better," Will responded with a grin as he tinkered with a fog machine.
Will and Blake dream of becoming designers for theme park attractions one day.
For now, Will hopes his years creating spine-tingling memories for neighbors will motivate someone else to carry on the tradition.
"It's a legacy I hope to leave to inspire another kid, like Mr. Hearn inspired me."
Find out more about WaxWorks Home Haunt by visiting the Instagram page: www.instagram.com/waxworks_homehaunt