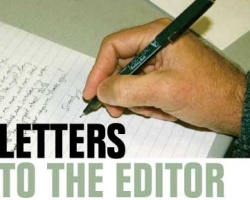 Protect our children
Let's protect our children! Don't vote for members of congress who took money from the NRA:
• Dana Rohrabacher—$34,817 California
• Ed Royce—$38,800 California
• Darrell Issa—$37,636 California
• Marco Rubio—$1,012,980 Florida. Will run for president in 2020.
They are trying to protect their $174,000 a year jobs at the expense of our children. Tell them they must pass meaningful legislation that will protect our children.
How about returning to the kind of weapons that were used when out Constitution was written—rifles were used in 1779 for the militia?
Only Congress can change the laws dealing with guns and other firearms. It's up to us to elect leaders who will.
Joyce Bloom
Los Alamitos
Seismic testing in Leisure World
There is something under our very feet that many residents may not be aware of that is going on in five out of the 16 mutuals, it's called seismic ground testing.
This method of testing sends shock waves deep within the earth to map the geologic contents beneath the surface.
The contents may include oil, natural gas, faults, and water. Five of our 16 mutuals have taken $20,000 in exchange for giving this permission to test, with scant prior knowledge of this permission shared with its residents.
This testing to map started in some mutual, more than two weeks ago.
One might suspect that interested oil companies have a good idea that the minerals; oil, and natural gas under Leisure World warrants further exploration, and possibly extraction.
With extraction comes some inherent, documented risks such as the imitation of earthquakes, contamination of ground water, release of methane gas, air pollution, exposure to toxic chemicals, blowouts due to gas explosions, waste disposal issues, and last, but not least the use of huge volumes of drinkable water used in the process of getting to the deposits.
For most of us, our most valuable possession is our home. Are we willing to jeopardize our retirement nest egg, quality of our environment and very residency to allow the possibility of mineral harvesting to be done right here under our very feet?
Certainly, we deserve more transparency on such an important issue.
Stevin Cohen
Leisure World
Dear California Coastal Commission
I would like to file a discovery appeal over the city of Long Beach California land usage rules, on coastal land at Second Street and Pacific Coast Highway, where Seaport Hotel was. There's now four or more OLD oil wells, that the public knew nothing about have showed up while clearing the land, this land may not be safe to build on, because of these old oil wells. This may be more wetlands land. For use by the public.
Bill Napier
Long Beach
A policy answer
HURRAH!  Finally I received an answer to my question to the Leisure World Golden Rain Foundation Board of Directors regarding Policy 5061-31 FEES #7.
This is their Policy regarding Revocable Living Trust issues.
In September 2017, my request to the Golden Rain Foundation was:  "In order for me to help my Successor Trustee, please give me the name of the law firm or attorney that must be paid $125.00 to review my Certification of Trust as stated in Policy 5061-31 FEES #7.
AND THE ANSWER IS:  Jay Picking, Esquire of Pray, Price, Williams & Picking.
When I asked the Executive Director employed by Golden Rain Foundation, why this Policy is being used?   His answer was: "There could be a forgery!"
WHAT?  Could this law firm be a handwriting expert!!!!!!!!!!!!
TO NOTE – this is the same law firm that sued on behalf of the Golden Rain Foundation Board of Directors seven (7) Leisure World residents starting in 2004.  The Golden Rain Foundation did NOT want to be under the Davis/Stirling Act also known as Civil Code 4000.
This lawsuit took over four (4) years—2004 to 2008—and proceeded all the way up to the California Supreme Court.  The rulings by ALL levels of Courts stated that Golden Rain Foundation IS under the Davis/Stirling Act. HOWEVER, Pray, Price, Williams & Picking law firm cost ALL of the residents of wondrous Leisure World Seal Beach over TWO (2) MILLION DOLLARS and even though this law firm lost they were PAID.
WOW !!!!!!!!!!!  COULD this be a SCAM perpetrated against senior citizens by Jay Picking, Esquire and LW Golden Rain Foundation Board of Directors?
Carol Franz, Ph.D. and Edmund Loritz
Seal Beach