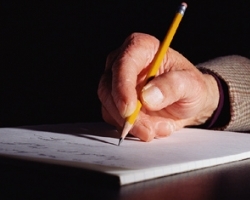 Local traffic scam?

Very Important.  Today at 11:40 a.m. I was driving my BMW on Westminster Boulevard between Bolsa and Seal Beach Boulevard headed toward Seal Beach Boulevard when something extremely suspicious occurred.
I was going 60 miles per hour with two cars ahead of me; the closest being a nice newish white car sedan and in front of that car was a silver mustang, a couple of years old. All of a sudden. like a professional race car driver or stunt car driver, the mustang two cars ahead does a split second U-turn with the white car ahead of me stopping short while my car was swerving between incoming traffic and the white car ahead of me.
I'm a sworn peace officer and I believe 100 percent that this was set up for me to hit the white car ahead of me for a lawsuit. The white car kept going like nothing happened and people pulled up next to me telling me to roll down my window and told me they couldn't believe what they just saw. A couple of months ago a girl died in the same area all of a sudden driving into oncoming traffic just like me today. Watch out in this area.
Richard Glassman
Seal Beach
Unwelcome mat out

On Tuesday, around 60 (based on LA Times and OC Register reports) of Congressman Dana Rohrabacher's constituents traveled to his HB office to deliver Valentines since the congressman continues to refuse to schedule a meeting with the constituents. The congressman put out a press release on Facebook that is contrary to what was reported by the newspapers and the constituents present.
He referred to the constituents delivering Valentines as a "mob" participating in "thuggery." When I questioned why the congressman did not mention the 2 year-old who was injured by the door being opened by his staffer, my comment was deleted and I was blocked from ever making any more comments on his Facebook account again. It was reported to me that he did this with many of his constituents.
When I called his HB office, I was hung up on. I was able to have a very civil and great conversation with an intern at his DC office concerning his blocking me on Facebook.
Jessica Abel
Seal Beach
Toss entertainment ordinance

The current incidental entertainment ordinance crafted by disgraced Director of Community Development Jim Basham, though it has some good points, should be tossed out and started over. The ordinance was compiled with absolutely no knowledge of the challenges of tools needed to implement a successful program.
This is what I have to offer—I understand the unique issues for a program like this to be successful. Also, I have a deep understanding of the issues at hand pertaining to this community, not only for businesses but also for concerned residents who are directly impacted by activity on Main Street. However, I believe with proper communication and cooperation from all parties involved, a plan can be implemented that will benefit all parties involved.. a strong inclusive program should benefit all businesses and residents alike. This process will not be drawn out or over bearing.
Due to limited space this is just an outline:
Not only will this panel produce an ordinance that makes sense it will also address everyone's needs. I believe for any program to be effective it should also include educating businesses how to best fill a successful program. Every business is different and has a different dynamic. Identifying these dynamics are important. I will also be offering a program that will address the unique differences and how best to take advantage of them.
I'm asking residents and members of the business community to be involved. I would like to invite volunteers from all aspects to be involved.
2 Chamber of Commerce Board Members
2 residents who are directly affected by Main St. activities
2 Main St businesses
1 entertainment professional
1 City Council member.
Call to action: If you would like to be a part of this process or have any suggestions please feel free to contact me at luckyjohnsafreak@gmail.com
I would like to start by inviting Councilman Mike Varipapa to be a part of this process.

Lucky John Domingue
Old Town resident
34 years performer/producer