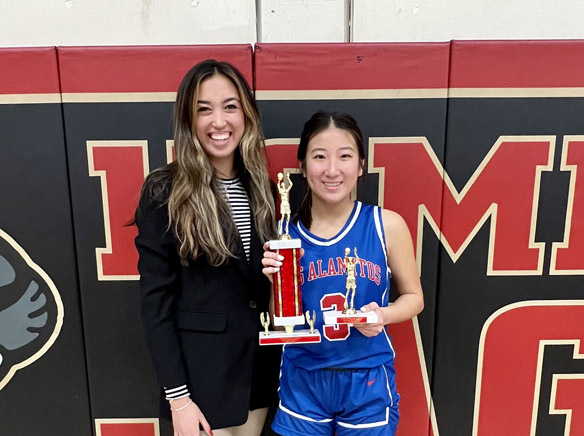 Los Alamitos High School girls varsity basketball point guard Kayli Liew is not slowing down following her breakout sophomore season when she was the Griffins MVP and was selected to the Surf League First Team.  In fact, the 5'4" junior guard is pushing her game to new heights.
Exhibit A for this claim is the career-high 28 points and 6 threes that she scored against Tesoro High School (10-4) to lead the Griffins (7-6) to a December 16 upset win, 51-45, in the semi-final game of the 2022 Santa Ana Elks Classic tournament.  Liew also had 5 steals, 4 rebounds, and 2 assists.  Although the next day the Griffins lost a competitive championship game, 45-36 to San Clemente (11-3), Liew once again led the team in scoring with 14 points and 3 threes. 
Liew's being the top scorer is nothing new; she has led the Griffins in scoring 11 times out of 13 games, and in all 13 games she has hit at least one three and has scored in double figures.
Overall, Liew is averaging 14.9 points per game and has made 37 threes (an average of 2.9 threes per game) to go along with her swift drives to the basket and her efficient mid-range shooting.
Not only a scorer, Liew also controls the tempo of the offense and is averaging nearly 3 assists to go along with nearly 4 steals a game.
"Kayli plays a huge role in leading our team," said Griffins Head Coach Maya Kennedy.  "She has worked very hard on her game over the past two-and-a-half years, and it's been a pleasure to watch her improvement and success."
Liew started playing basketball at age 5 and says that after graduating in 2024, she would like to continue playing basketball in college.  She already has been approached by several universities and colleges.
For now, however, Liew is a team captain and scoring leader of the Los Alamitos Griffins, who are currently playing in a 4-game tournament through Dec. 30 at Marina High School. The Griffins open up league play on Jan. 4 at 7 p.m. at home against Newport Harbor.