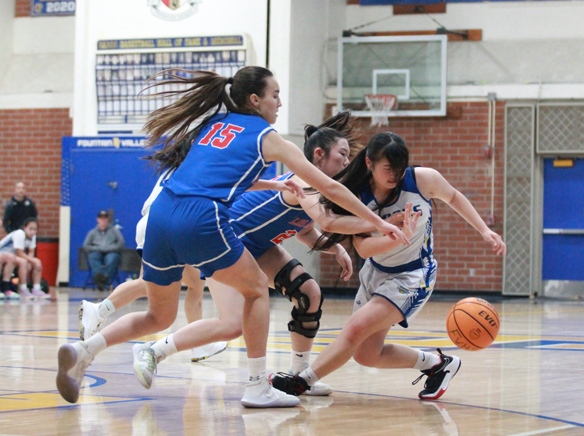 Los Alamitos' girls basketball team led by as much as 13 points in the third quarter, but Fountain Valley fought back to give themselves a chance at a last second win. However, the Griffin defense held up as they came away with a 39-38 Surf League win on Monday at Fountain Valley High.
Junior center/forward Kassidy Beach led the Griffins with 12 points and fellow junior forward Emie Fell followed with 11 points. Junior guard Kayli Liew had eight points and sophomore guard Ava Duarte chipped in five.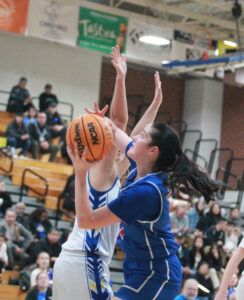 Fountain Valley senior guard Mary Nguyen had 12 points to lead the Barons. But in the end it was a defensive battle as the Griffins scored just two points in the fourth quarter, but held the Barons to just seven to preserve a lead and hold on to the win.
"I knew this was going to be a really tough game for us," Griffin Head Coach Maya Kennedy said. "They're very well coached. They've got girls who can shoot and who can drive to the basket."
After a foul-plagued first quarter, the Griffins began to hit their stride in the second quarter. The Griffins outscored the Barons 19-8 in the second quarter to take a 27-19 lead at halftime. Beach had seven points in the quarter and Fell chipped in six, including a three-pointer.
Fell hit a floating jumper just as the shot clock was expiring, that gave the Griffins a 27-17 lead, but the Barons responded on the ensuing possession with a baseline driving layup by Mary Nguyen to cut the lead to 27-19
In the third quarter, the Griffins extended their lead to 36-23. Fell hit a couple of free throws and also banked in a three-pointer to push the lead to 34-21. After a Fountain Valley jump shot by Dianna Burke, Los Alamitos took a 36-23 lead when Beach got a pass in the key and laid it in for an open layup.
The Griffins took a 37-31 lead into the fourth quarter, which quickly became a defensive battle. Lew got the Griffins' only score in the fourth with a driving layup through the key. Fountain Valley was only able to muster seven points and had a final possession where they got off a good shot and a desperation shot after a rebound.
Kennedy said that after their first quarter foul trouble, they were able to adjust and defend shots more straight up, to avoid fouls. She also noted that they were better on defensive rebounds. With the win the Griffins improved to 4-1 in league and were scheduled to play at Corona del Mar (5-0) on Wednesday (after Sun press deadline). A win would give the Griffins a share of the league title heading into the playoffs.
Corona del Mar defeated Los Al in their first meeting, 41-35. In the January 23 CIF-SS Division 3AA poll, the Los Al and CdM were tied for the No. 13 ranking. Heading into this week, the Griffins had moved up to No. 11 and the Sea Kings were ranked No.15.
Kennedy said that she likes the way her team has come together through the year and expects them to be a tough draw as they head into the playoffs.
"We're really organized, so we can execute and play hard and play together and be smart," Kennedy said. "We can beat a lot of teams."
Editor's note: The Griffins defeated Corona del Mar 43-37 on Wednesday to earn a share of the Surf League Championship. Playoff brackets will be released by noon on Sunday.