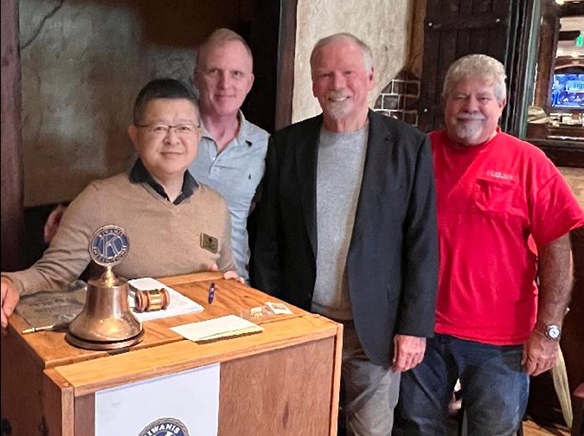 Huntington Harbour Commission Member Mike Van Voorhis recently gave an overview of all the things that are happening with the Huntington Harbour Commission.
The presentation included: promoting boating safety, showing proper boating techniques and keeping your house safe from burglaries. Burglaries are a common problem in the area. Harbour Commissioner and current Kiwanis Club President Dr. Van Vu are taking steps to combat them.
Commission Chairman Craig Schauppner said: "I did not know all the backstory of how the commission came to be, but hearing this Kiwanis Speech gave me more insight to that."
The Huntington Beach Municipal code (Municipal Code 2.65) designates that the Harbour Commission shall serve in an advisory capacity to the City Council in all matters related to Huntington Harbour, its beaches, facilities, and parks.
The commission advises the City Council about Waterway Safety, General Infrastructure (e.g. seawalls, pier headlines, bulk heads etc.), Water Quality and Municipal Code Amendments. The Harbour Commission also cooperates with other governmental agencies and civic groups for the advancement of the Huntington Harbour and recreational planning under the direction of the City Council.
Harbour Commissioners study, report, and interpret the needs of the public to the City Council and assist in securing financial support from the community for the enhancement of Huntington Harbour, its beaches, parks and related recreational needs. The Harbour Commission also reviews the annual budget as presented to the City Council to advise them on the current operational needs and long-range plans for capital improvement in the Harbour. In addition, the Commission also advises the City Council on any other matters concerning the Huntington Harbour when requested to do so by the Council.
The Commission meets on the fourth Thursday of each month at 5 p.m. in meeting Room B-8 on the Lower Level of the Civic Center, 2000 Main St., Huntington Beach, CA. 92648.
You can now log on to their website to watch safety videos and learn more at:
https://www.huntingtonbeachca.gov/government/boards_commissions/harbor-commission/harbor-commission-website/