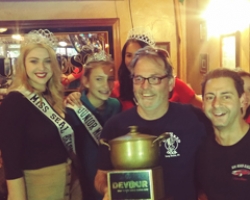 The Abbey won 2018 Best Chili of the Year and Bistro St. Germain won the People's Choice Award in the annual Devour Chili Cook-Off Saturday, Feb. 3. Fans of the cook-off may recall that Bistro St. Germain won last year's judge's choice as Best Chili of the Year. Both of the winners will name their favorite charity so that Be The Good will donate $250 to that charity in the name of the winning restaurant.
Abbey owner Tom Rowe, past president of the Seal Beach Chamber of Commerce, accepted the award for his restaurant. He did not, however, take credit for the chili.
"This is my chef DeVilla's special," Rowe said.
Though the event was presented by Be The Good and co-sponsored by the Sun News, the Miss Seal Beach organization ran the operation as they have for three years now.
"We feel blessed with this town," said Rosie Ritchie, Chamber secretary and Miss Seal Beach coordinator. "This event was more successful than we anticipated."
Lisa Landau, of RE/Max College Park Realty, said, "It was cool seeing the restaurant chefs meet each other."
This year's participants were: Hangout, Clancy's, Thai On Main, O'Malley's, Beachwood BBQ, Beach Burgers Brews, Avila's, Glory Days, Crema Café, Bistro St. Germain, Kai To Sushi, Finbars, Hennessey's Grill, Still Life Tattoo, The Abbey, 320 Main and Taco Surf. Tasting began at 1 p.m. and went until 5. The panel of judges then had the difficult task of trying to pick just one chili out of the incredible selection.
The finale was held at O'Malley's where all the amazing participants donated gift certificates and prizes for the opportunity drawing.
It was a beautiful day for this community event with chili booths from one end of Main Streeet to the other. For $10 a "chili passport," chili lovers were allowed to stop at each participant's chili booth and have a taste of their chili.
Do you think your recipe has what it takes to take the Chili Pot trophy away from the Abbey next year? If so, then contact Rosie Ritchie at 562-810-0078 or Lisa Landau 619-851-2681.