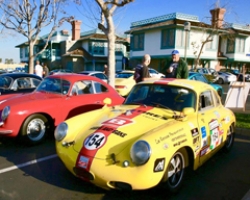 One by one, about 50 brightly colored and finely tuned Porsche's began rolling into the parking lot of a Seal Beach restaurant Saturday morning, as members of the Grand Prix Region of the Porsche Club of America held their monthly meeting here.
Actually, according to Alan Johnson, Vice President of the club and a Seal Beach resident, the group meets here every month.
Although based in Long Beach, the group finds it more convenient to meet at the Glory Days Beachside Grill on PCH, he said.
In they rolled, each driving their favorite Porsche and soon, the parking lot was filled with an assortment of some of the finest motorcars available today.
Porsche owners believe there "are some luxury cars with performance features, but a Porsche is a performance car with luxury features," according enthusiast John Kunkle.
The thing about Porsche owners is that, as individuals, they each have stories nearly as interesting as the machines they drive.
Kunkle is a well-known auctioneer. There were business owners, retired L.A. city employees, craftsmen, and a variety of accomplished men and women accompanying their machines.
Although this month's meeting featured the Porsche 993, Bruce Brown's rare 1950's vintage Porsche 356 caught a lot of eyes. Some estimate Brown's Porsche to be worth well over $200k. For these men and women, however, it's about much more than money. They truly have a passion for performance and believe Porsche is the finest car ever engineered.
In fact, they have evidence to back up their claim. It was the celebrated automotive engineer, Ferdinand Porsche, born in 1873, who created the initial design concepts way back then for the hybrid automobiles that many drive today.
Experts say these Porsche designed performance vehicles can easily reach speeds of 150-200 mph. Owners insist, however, they only drive so fast when they have well supervised events on area tracks and can do so under very safe conditions.
Nevertheless, these Porsche owners talk cars from the moment they arrive till they jump back in the driver's seat. Most of PCA members are tinkerers, in that they take immense pride in the incredibly fine tolerances in every aspect of their machines and many of them work on, or supervise, every aspect of their car's maintenance.
Club President Jeff Peck, of Beverly Hills welcomed approximately 75 guests to the breakfast. He quickly gave a report of the club's activities to members.
Later, he said Grand Prix Region, although based in L.A. County, does have members from Orange County.
Overall, he said, there are approximately 125,000 members nationwide in the Porsche Club of America.
Safety Chairman Nick Perdikaus gave members a briefing about some of the upcoming driving areas where downhill conditions could present hazards.
Johnson presented members with an overview highlighting some of the club's upcoming touring events. Members of the Grand Prix Region, said Johnson, truly enjoy taking weekend trips and even staging mini road rallies at tracks where the members can really let loose and show their stuff.
The club meets every month in Seal Beach.