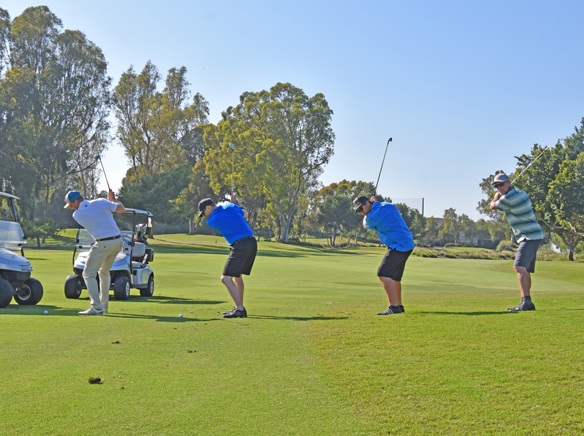 The Youth Center announced recently that SA Recycling has contributed $5,000 towards their 2021 Annual Golf Tournament, making the full service recycler the Title Sponsor of the event. The fundraising golf tournament will be held on Monday, July 12, at Rio Hondo Golf Club in Downey. It will be a day of camaraderie and fun on the greens, raising awareness and much needed funds to support program scholarships for at risk and disadvantaged youth in Los Alamitos and the surrounding community.
"SA Recycling is honored to present The Youth Center with this sponsorship, and we hope that it will help provide you with the resources you need to continue making a difference," said Jennifer Martinez, administrative assistant of public relations at SA Recycling.
"We admire your work in the community and your diligent efforts to improve the youth of today," she said.
The Youth Center's Annual Golf Tournament will be a full day of activities starting with registration, a putting contest, complimentary lunch, followed by a shotgun tournament. The event will end with an awards ceremony at dinner, and a raffle and auction to support local youth.
"I have experienced first-hand with my children, the impact that The Youth Center programs had on their lives and the lives of their friends," said Arnie Fine, Youth Center board member and parent. "My children are successful because of The Youth Center and I am honored to Chair this event again this year and help raise funds for local youth that need us".
Golf foursomes and youth golfers are encouraged to register by June 12 to enjoy early bird fees of $165 for adults and $135 for kids (fees will increase by $20 after June 12th). Not a golfer, but want to support at risk and disadvantaged kids in our community? The Youth Center is actively pursuing corporate sponsorships and in-kind donations for the raffle and silent auction, including golf merchandise and gift cards to local restaurants.
The Youth Center is a non-profit organization whose mission is to transform children's lives one family at a time through collaborative social, educational and recreational programs. Since the birth of The Youth Center in 1952, The Youth Center has been honored to establish valuable partnerships within the community and acknowledges their critical importance in the organization's current and future success. For additional information on The Youth Center, register for the tournament, or become a sponsor, please visit www.TheYouthCenter.org or call (562) 493-4043.