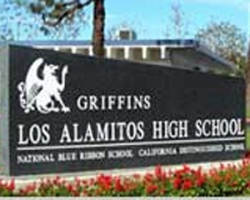 Los Alamitos High's football team closed out its season with a 31-13 win over Marina on Thursday at Westminster High School.
The Griffins ended the year with a 6-4 overall record and 2-3 in the Sunset League for a fourth place finish.
Against Marina, Cody Paul closed out his high-school career with 100 rushing yards and four touchdowns.
Three of his touchdowns came in the second half as the Griffins rallied from a 13-10 halftime deficit with 21 unanswered points in the second half. Quarterback Dylan Lagarde also finished his high school career with a solid 210 passing yards.
Dashawn Gordon had 67 rushing yards and added three receptions for 57 yards. The Griffin defense was led by Daniel Tyler, who had 19 total tackles, including a team-high seven solo tackles. Joe Locher had 11 total tackles and James Stea had five solo tackles.
The Griffins had started the season at 4-0 before suffering close losses to Santa Margarita and Edison.
With injuries to their line, the Griffins were then hurt by the running attacks of Newport Harbor and Huntington Beach to take them out of the playoff chase.
Lagarde finished the season with 1,606 passing yards with 21 touchdowns against only eight interceptions.
Paul also put up big numbers this season with 1,215 rushing yards and 18 touchdowns. Kendall Holmes, Josh Caiquo and Kyle Roberts all had more than 22 receptions, with Roberts pulling in 11 touchdown catches.