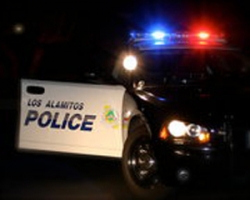 It started with an accident a two vehicle collission in which an Isuzu rear-ended a Dodge pick up truck in Los Alamitos.
It ended with the driver of the Dodge being charged with 11 felony counts, nine of them for assault with a deadly weapon. Police say he deliberately struck another vehicle with his pick up truck.
He has also been charged with two counts of criminal threats.
"This looks like a classic case of road rage," McAlpine said.
"Road rage on steroids," he said.
The Orange County District Attorney's Office has filed 11 felony counts against Robert Barnhart, 52, of Bellflower, according to Los Alamitos Police Capt. Bruce McAlpine.
The Orange County Sheriff's Department Web site said a man with the same name was arrested released without bail on Nov. 10. The Sheriff's Department Web site did not provide a date for his next court appearance.
However, the Orange County Superior Court Web site confirmed that Robert Barnhart was charged with the nine counts of assault with a deadly weapon and two counts of criminal threats.
The courthouse Web site said Barnhart's $50,000 bail was posted by Aladdin Bail Bonds.
According to the courthouse Web site, his next court appearance will be at a Nov. 22 preliminary hearing.
Barnhart has entered a plea of not guilty to all 11 counts, the Web site said.
No one involved in the case was charged with driving under the influence—everyone was apparently sober at the time.
McAlpine said the presence of a passenger in the
The following is the Police Department's account of the case.
On Saturday morning, Nov. 5, Stanton resident Jesse Ochoa, 18, was driving his black Isuzu Rodeo on Bloomfield, south of Ball Road. Ochoa had a passenger with him.
Unfortunately, Ochoa's Isuzu rear-ended a silver Dodge pick up truck that was apparently being driven by Barnhart.
According to McAlpine, the drivers of both vehicles got out and looked at the damage.
Barnhart became upset and started yelling at Ochoa, who got in his vehicle and drove to the nearest gas station at Ball and Bloomfield.
McAlpine said that Barnhart followed Ochoa and deliberately rammed Ochoa's Isuzu with his Dodge.
Ochoa drove off, going east on Ball Road.
Barnhart drove after him.
McAlpine said that during the chase, Barnhart's Dodge side-swiped Ochoa's Isuzu, causing the Isuzu to spin around and end up facing west on the eastbound side of the road.
Ochoa apparently decided to drive against the flow of on-coming traffic in an attempt to escape the Dodge.
Barnhart followed until the two vehicles were once again near the intersection of Ball and Bloomfield, according to McAlpine.
There, Barnhart reportedly cut off Ochoa, causing his Isuzu to broadside Barnhart's Dodge.
McAlpine said that effectively stopped both vehicles.
Barnhart then pulled Ochoa out of his Isuzu and began pummeling Ochoa in the chest and abdomen.
Eventually, the police arrived.
McAlpine said he didn't know if officers saw Barnhart hitting Ochoa, but there were witnesses who saw the incident.
Ochoa declined medical attention, McAlpine said. His injuries, if any, were apparently not serious.
Barnhart was arrested.
Unfortunately, Ochoa's troulbes are still not over. He has been charged with one count of driving at an unsafe speed, one count of driving without proof of insurance and with one count of driving without a license.