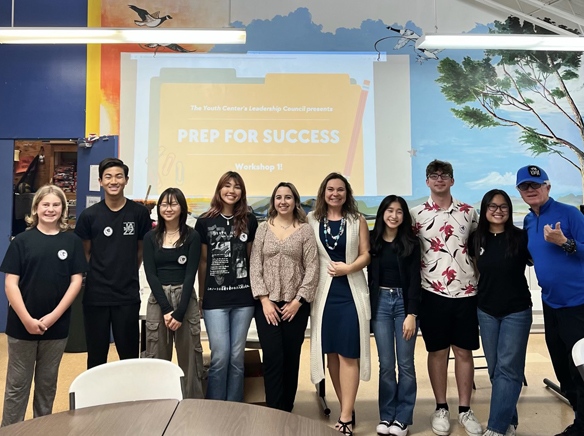 By Lina Lumme
For the Sun
Los Alamitos High School's junior sensation, Gabe Finch, renowned for his unwavering commitment to academic excellence, community outreach, and inspirational leadership, has assumed a new role as the 2023 Chair of the Igniting Potential Campaign. This campaign, featuring 24 esteemed nonprofits, is dedicated to raising vital funds for The Youth Center, a cornerstone of support and empowerment for youth in our community.
Gabe Finch, a true beacon of intelligence, inspiration, and compassion, has consistently demonstrated his dedication to making a positive impact on his school and the wider community. With an impressive 3.85 GPA and a rigorous course load that includes AP Language, Japanese III Honors, Advanced Show Choir, Advanced Trigonometry, Honors US History, and Marine Biology, Gabe has set the bar high in his academic pursuits. His willingness to tackle challenges head-on showcases his intellectual prowess and commitment to personal growth.
However, Gabe's contributions extend far beyond the classroom. As the Director of Community Outreach for Los Alamitos High School's Leadership Program, he has dedicated himself to fostering a sense of community and giving back to society. His compassionate nature and the ability to inspire and mobilize others are the driving forces behind his leadership role, and they perfectly align with the goals of the Igniting Potential Campaign.
In his cherished moments of leisure, Gabe enjoys the simple pleasures of life, such as playing video games with his friends and capturing the world's beauty through photography. This balance between his academic pursuits and personal interests exemplifies his well-rounded nature and his ability to manage his time effectively.
Gabe Finch's appointment as the 2023 Chair of the Igniting Potential Campaign is a testament to his caring, goal-oriented character and his commitment to both his studies and his community. Under his leadership, the campaign aims to raise critical funds for The Youth Center, which plays a pivotal role in nurturing the potential of our youth.
The Igniting Potential Campaign, featuring 24 nonprofits, aims to mobilize our community's support in providing resources and opportunities to empower youth. Donations can be made at www.TheYouthCenter.org and Gabe Finch invites everyone to join him in this noble endeavor.
As Gabe continues to excel academically and inspire those around him, there is no doubt that he will be a driving force in ensuring the success of the Igniting Potential Campaign and the positive impact it will have on The Youth Center. The future holds great promise for this exceptional young leader, and we eagerly anticipate the remarkable achievements that he and the campaign will undoubtedly accomplish.