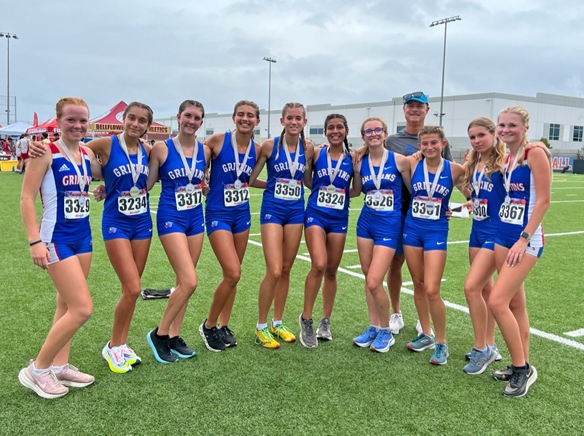 By Trista Candiotty
For the Sun
The Los Alamitos High School Cross Country Team started off their season with four team championships at the Great Cow Invitational on Sept. 2, at John Glenn High School racing against 25 other schools. Los Alamitos High School had an incredible start to their season. Competing against 26 teams from Orange and LA county the Griffins won the team sweepstakes award as the top team at the Invitational.
The varsity girls started the day off by winning their race in a landslide. The second-place team fell 85 points behind the Griffins. The top five varsity girls all finished in the top 20. Junior Stevie Holguin won the girls varsity race with the fastest time of the day (17:17), followed by junior Olivia Bettinger (18:02), then senior Ruby Flaim, followed by sophomore Chelsea Estrada, and senior Kaitlyn McQuillen.
The varsity boys followed with strong races by Charles Villegas (16:02) and Garrett Bantle (16:30). The junior varsity girls finished first with eight girls in the top 20. Griffin Milly Verdugo finished third (20:01), followed by Skyler McClain who finished eighth (20:56), and Amina Farki placing ninth. The JV boys also had a strong race led by Paul Dunbar (17:42) and Pierson Lumaya (17:44). Matthew Mayhue (16:41) and Charley (17:15) led the Griffins to first place with fourth and tenth place finishes.
The sophomore girls won their race by only one point, led by Serena Peterson (20:38) and Roma Kubis (21:07) with third and six place finishes. Los Alamitos High School Freshman girls took second place. Freshman Bella Castellon led the way with a time of (20:15), closely followed was Caris Honma (20:23). The Los Alamitos Freshman boys also placed second, in which three of the Griffin boys placed in the top 13. Finishing eighth was freshman AC Wellsand (17:02) followed by Samuel Pareti (17:06), and Johnathan Vazquez.
Head Coach Mark Celestin is excited about this year's season.
"We knew the team would be good, but just didn't know they'd be this good," Celestin said. "What a fantastic start to the season. If the runners continue crushing their training for the next two months our six teams will be ready for a great league finals."