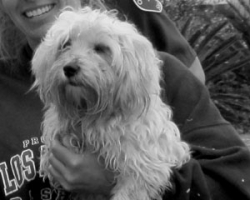 On Tuesday morning, Dec. 14, Rossmoor Predator Management Team member Cathie Williams went out to get the paper when she saw a little white dog running past her and heading for Rush Park.
She realized the dog belonged to her neighbor across the street.
Not knowing the dog's name, Williams called, "Here Boy, here Boy."
But the dog just ran all the faster as he was taking himself for a walk.  The dog rolled in a gutter that was filled with wet leaves and water.
As Williams got closer, the dog turned around and began barking and aggressively defending himself.
Two Orange County Deputy Sheriff's deputies were patrolling on Blume Drive. They stopped and asked Williams if the dog was hers.
One deputy went to the owner's house to identify the escapee.  The other deputy helped Williams round up the dog in her backyard to await the arrival of the dog's owner.
When the neighbor arrived, she said that her dog gets out a lot and loves to bark at people to protect himself.
The owner thanked Williams and the deputies for recovering her pet.
Before leaving, Williams advised the pet owner that she should have the dog neutered, micro-chipped and fitted with a dog collar with identifying tags.
Williams is involved with the Bichon FurKids Rescue.
She said it has been her experience that neutered or spayed dogs are generally not aggressive and tend not to run away.