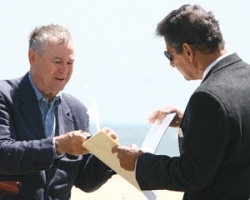 The American Shore and Beach Preservation Association announced Monday that Seal Beach was one of four cities that earned the 2010 Best Restored Beach Award.
Mayor pro-tem Mike Levitt led the brief ceremony held at the pier, where U.S. Rep. Dana Rohrabacher gave the city accolades for its environmental efforts.
"I am pleased that your beautiful community and beach has been recognized for its dedication to the environment, restoration, storm protection, and recreation," said Rohrabacher.  Rohrabacher awarded the city with a California congressional award and certificate.  County supervisor John Moorlock's office dedicated a certificate and Senator Tom Harmon's office issued Senatorial Recognition certificate to the city for a job well done.
The city of Seal Beach city funded nearly $2 million for the project, and used 74,000 cubic yards of offshore dredged material to nourish and widen the narrowing and eroding beach south of the pier.
"This is a clear case of many hands making work light," said Seal Beach City Councilman Charles Antos.  "We greatly appreciate the efforts of our fine city manager and his staff, the U.S. Army Corps of Engineers, and especially the efforts of Mr. Kim Sterrett of the State of California Department of Boating and Waterways."
"I am absolutely thrilled that our city gets the recognition it deserves," said Seal Beach Parks and Recreation commissioner and long-time Seal Beach resident Carla Watson. "Our local government deserves a lot of credit for this award. Our city rocks."
If you have a comment or response to this story" write us at dennis@sunnews.org or go directly online to www.sunnews.org. Find the story and leave your comment there.