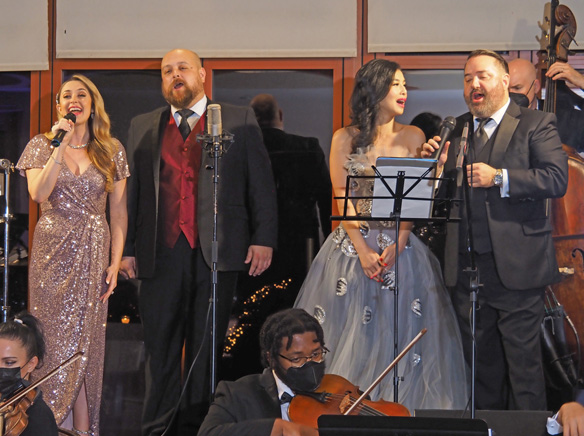 Following a two-year pandemic pause, the Seal Beach Symphony entertained a packed house at Old Ranch Country Club Saturday, as four world-class performers delighted music lovers with renditions of classic songs that tugged at heartstrings throughout the "Love Songs" event.
A near overflow crowd gathered to enjoy a three-course meal and classical entertainment as the venue was transformed into a makeshift symphony hall for the evening.
Artistic Director and Tenor Chad Berlinghieri, one of the performers, surprised the audience with the playing of his saxophone on more than one of the pieces that night. "Something I haven't done since elementary school", he said.
"It was such an incredible pleasure to be making music again after the covid break" said Berlinghieri.
A crowd of more than 200, including Seal Beach Mayor Joe Kalmick and Buena Park Mayor Sunny Park enjoyed performances by Berlinghieri, GRAMMY® nominated Sangeeta Kaur (Teresa Mai), baritone Ben Lowe and Katie Dixon.
Highlights of the evening for each artist were Katie Dixon's "Till There Was You from The Music Man." Having recently performed in ABC's Dick Clark's Rockin 'New Year's Eve in Times Square. It's clear that her talent has taken a bite out of the Big Apple!
Seal Beach Symphony Artist in Residence Baritone Ben Lowe's booming Baritone rang the room on with his final "Mein Herz" in the World Premier of his version of the song Die Post from his new recording of Schubert's Winterreise.
According to Berlinghieri, every couple in attendance went home with a copy of his just released new album.
Lowe also got the crowd going with the classic "To Dream the Impossible Dream from the Man of Lamancha and Berlinghieri flirted with a bit of modern fun with a rendition of Elvis' "It's Now or Never."
Kaur, a soprano and a Seal Beach Symphony Artist in Residence, dazzled the audience with the premiere of the single "Love is All" from her PBS Special "Sangeeta Kaur and Friends."
"It's very clear that Sangeeta is deserving of all of the accolades being pointed in her direction right now. said Berlinghieri. "She is truly a specialist in that niche as well as the classical repertoire," he added.
All of the artists were accompanied by the Seal Beach String Ensemble, conducted by Igor Kogan. The event also featured a three-course meal prepared by Chef Joseph Flores and his team, as the artists, and the crowd, took tasty breaks to make time for the three courses.
"It has been such a privilege to observe and to be a part of the birth of Seal Beach Symphony," said Kaur, who has been nominated for a GRAMMY® Award for her work on the album "Mythologies."
"Music connects our souls. It is a gateway to the heart, and I have all the confidence in Chad Berlinghieri that he will continue to create incredible productions and beautiful experiences that will nurture the hearts of this community and beyond," she said.
"The opportunity to sing with the Seal Beach Symphony has been a life changing experience," said Lowe. Love Songs 2022 was a stellar success and beautiful way to come back and sing for such a loving, supportive audience," he added.
Lowe said "it was a joy to share the stage with my fellow performers and a beautiful reminder of why we perform and how powerful it is what we do. Thank you to Chad and the Seal Beach Symphony for a world class production and an incredible night to remember."
Dixon, who is currently touring with the USO, said "what a pleasure it was to return to California from Manhattan and support such a worthy cause. It was a lovely evening filled with beautiful music and it was so wonderful to perform again with my esteemed colleagues."
Jim Klisanin, a longtime Seal Beach businessman who attended the event, said "it's been such a long time since we've been able to attend an event like this. Well done and fantastic entertainment."
His sentiments were echoed by many in the group who expressed gratitude to be able to be out among friends, enjoying fellowship and the gift of music.
During the event, Berlinghieri announced that the Seal Beach Symphony logo, which cleverly depicts the base of the Seal Beach pier as piano keys, has now officially been trademarked.
Following a toast to the future of the Symphony, the capacity crowd was dazzled with the ballroom dancing of Jordi Caballero and Yesi Burgess (Dancing with the Stars). They dazzled the concert goers by performing the Tango De Roxanne from Moulin Rouge.
After the show, attendees also danced the night away as the music played on.
"I was very pleased with all of the aspects of the event," said Berlinghieri. "From the performance to the food and attention to detail from the Old Ranch Staff.
"They really do a great job hosting such events. So much so that we have rebooked the event for Feb. 11, 2023," he added.
More information can be found on the Seal Beach Symphony's website at www.SealBeachSymphony.com or by calling (562) 509-8640.