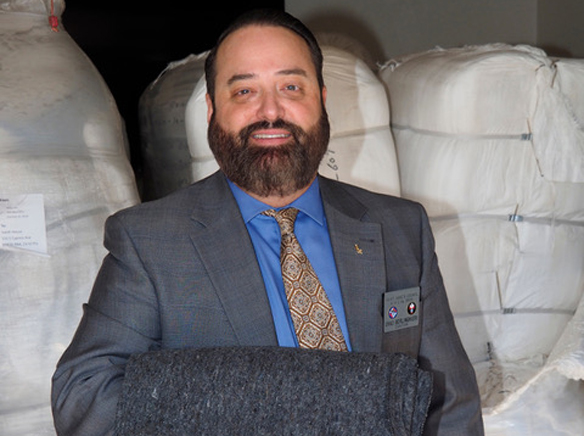 Artistic Director of Cathedral Productions and Cantor of Saint Anne's Chad Berlinghieri made an appeal at all five masses last weekend for funds to support The Isaiah House Blanket Project. In typical Saint Anne's fashion, the appeal was a huge success with the to date numbers totaling $13,238.57.
"It was a huge week for our community" said Berlinghieri.
They collected, separated, and distributed enough nonperishables to support thirty families for Christmas including fifteen boxes to Isaiah House with our annual food drive. They collected and delivered two truckloads of toys to our sister parish Saint Anne's in Santa Ana (led by Religious Education Director Amy Papageorges) and to make sure everyone had the energy to fulfill their charitable works. The Knights of Columbus threw in a pancake breakfast into the middle of it all. Led by KofC Grand Knight Russell Stark and Co-Chair Kevin Smith. Everyone left the gift of a yearly calendar from Greg and Barbara Welch of Risher Mortuary.
"I also had the pleasure of participating in the Seal Beach Lions 'Toys For Tots' Christmas Party chaired by Alan and Lorraine Chavez." They collected twenty large boxes of toys for the Marines and their cause. Going way over their projected expectations," Berlinghieri said.
"There is a synergy taking place in our town right now. All very positive as we have now generated enough blanket monies to cover the homeless shelter for half of the year. Yesterday a couple of people called me the 'Blanket Man' and I thought that that was ok," Berlinghieri said with a smile.
The campaign will go until Feb. 15 when at Cathedral Production's "Love Songs" event taking place at Old Ranch Country Club the final number will be announced.
Berlinghieri note: I would personally like to thank everyone who has participated in the blanket project and for those who may be considering making an end of the year contribution. Merry Christmas and Happy Hanukkah to you all. We are doing God's work! Providing for those in need with our recourses, love, and perhaps a bit of hope this Holiday Season.
For more information or to donate please call (714) 883-7987 or visit our website at www.CathedralProductions.org.