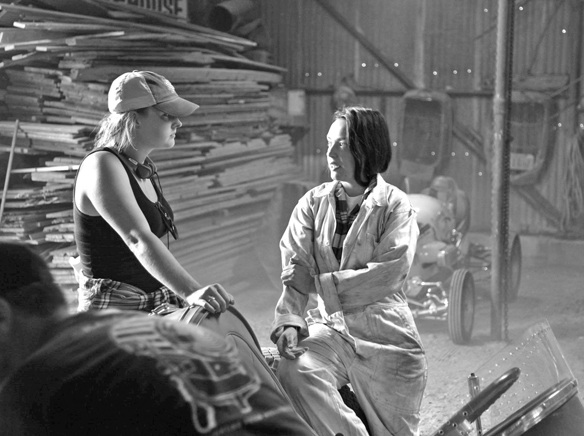 For a young female writer/director, Rossmoor native Brenna Malloy's career could soon be on a 'rocket' ride, thanks to her Student Academy Award and being named this week to NBC's new empowerment program entitled "Female Forward."
According to a network press release, Malloy was selected to be included in the latest class of NBC's groundbreaking scripted directing initiatives, Female Forward and the Emerging Director Program.
"The initiatives aim to increase representation of female and ethnically diverse directors, respectively, by creating a pipeline into scripted television. They are the only programs in the industry that give participating directors an in-season guarantee to direct at least one episode," according to NBC.
The new class of Female Forward directors and the NBC series they will helm are Kris Lefcoe ("Superstore"), Brenna Malloy ("Chicago Fire"), SJ Main Muñoz ("Chicago Med"), Kim Nguyen ("Brooklyn Nine-Nine") and Sara Zandieh ("Good Girls"). The class for this year's Emerging Director Program are Mahesh Pailoor ("The Blacklist") and Dinh Thai ("New Amsterdam").
"Our scripted directing initiatives are proven changemakers in our industry. While celebrating this milestone year, we are so proud to continue building NBC's legacy of making a meaningful impact in representation on television," said Lisa Katz and Tracey Pakosta, Co-Presidents, Scripted Programming, NBC Entertainment.
In an interview this week, the Rossmoor native said she was "over the moon" and "beyond excited" about being selected.
Not only is this an incredible break, she is a big fan of "Chicago Fire," and is so excited that she will have the opportunity to direct an entire episode later in the season.
The 2008 graduate of Los Alamitos High School was attending the University of San Francisco when her mom, without her knowledge, arranged for her first big break. Malloy is the daughter of Kevin and Nancy Malloy, of Rossmoor.
According to Brenna, while she was away at college, Lifetime scouted Rossmoor and decided to use the Malloy family home for a Rob Lowe movie (Drew Peterson: Untouchable, 2012).
Mom said sure, as long they gave Brenna a role as a production assistant. Deal done.
Taking a break from college, Brenna said she became friends with Lowe and Ryan Murphy while making the film, while Murphy actually began to mentor the young female writer/director.
"I realized then that I wanted to be a storyteller," said Malloy this week.
After stints in London studying acting and filmmaking, she eventually returned to the states and graduated from the University of San Francisco with a BA in media studies.
She went on to earn an MFA in film production with an emphasis in directing from Chapman University.
Malloy participated in the competitive Filmmaker-In-Residence program with Gary Foster p.g.a. while developing her master's thesis film "Rocket," which throws the audience into the world of 1950's dirt track racing, a world her family history is steeped in.
The short film earned Malloy a Student Academy Award® in 2016, an Individual Merit Award for Best Director at the Richmond International Film Festival, awards in China and the United Kingdom, and has screened in more than 40 festivals in eight countries.
Malloy's experimental short "Candy Apple Red" celebrated its world premiere at The Bentonville Film Festival in 2018, and her horror short "The Birthday" screened at genre festivals all over the U.S. In the spring of 2019, Malloy directed a feature documentary about activist Manal Al-Sharif's Freedom Drive across America.
As a participant of Ryan Murphy's Half Initiative, Malloy shadowed executive producer and director Brad Buecker on Fox's hit show "9-1-1" Previously, she was closely mentored by directors David Ward and Martha Coolidge, and shadowed Martha on an episode of "Angie Tribeca."
"Female Forward and the Emerging Director Program have become the litmus test for successful and effective pipeline programs, and our new class of accomplished directors will continue to add to our rich heritage," said Karen Horne, Senior Vice President, Programming Talent Development and Inclusion, NBC Entertainment.
"It is especially gratifying to continue to provide a stepping stone into episodic directing for so many talented directors," she said.
Female Forward aims to achieve gender parity in the director's chair, while the Emerging Director Program focuses on ethnically diverse male and gender non-binary directors.
Finalists for both programs shadow episodic directors on an NBC scripted series and receive an in-season commitment to helm at least one episode of the series they shadow.
To be eligible for either Female Forward or the Emerging Director Program, finalists were required to have directing experience in their respective fields of expertise such as feature films, music videos, commercials, digital content and theater. Candidates could have no more than one scripted television directing credit, according to NBC.
"I've been blessed by the TV Gods," said Malloy, adding that she will stay in Chicago on the set of "Fire" for the entire season, getting to know the cast and crew before her directorial debut in January.
The Rossmoor/Los Al, California native is a writer-director who has a passion for bringing female characters with depth to the silver screen, and an affinity for directing action.
She is represented by The Radmin Company.