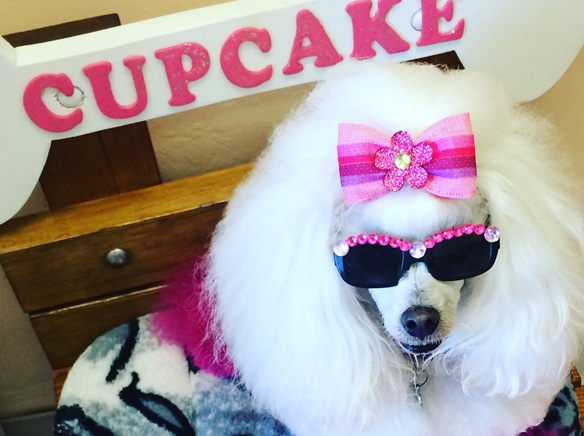 Cupcake was the kind of dog that could bring traffic to a halt on Main Street in Seal Beach.
"A driver once put their car in park to get out and take a picture," Dara Samson, "mom" to Cupcake and the general manager at Seal Beach LaunderPet, recently recalled.
Whether it was a driver on the road, or shoppers strolling by, few could resist stopping to snap a photo of the fluffy white tiny toy poodle who had become a fixture outside the pet grooming shop on Main Street over the past five years.
Sitting in her custom-made chair sporting a bow atop her head, wearing itty-bitty sunglasses over her eyes, and with puffs of pink-dyed fur, Cupcake was always ready for her close-up.
"She just loved the camera," Samson said in a recent interview while wiping away tears, still emotional from her pet's passing. The darling dog died on August 8 after a sudden illness. She was 11 years old.
"I wasn't expecting it," Samson sobbed.
Earlier this summer, Samson noticed the dog had been sneezing a lot more than usual. She thought it was just allergies but when the sneezing wouldn't stop, she took Cupcake to the veterinarian. Tests revealed Cupcake's liver was failing and she didn't have long to live.
Samson announced Cupcake's passing in a post on the dog's Instagram page, @RealCupcakesWorld, and some of her hundreds of followers expressed sadness at the news.
"I just didn't expect to see this….so sad!" wrote one person. "This broke my heart," wrote another.
Cupcake the service dog
Samson met Cupcake when she was only 3 days old. She already had four other dogs at the time and wasn't expecting to get another one but it seemed destined to be. "Cupcake and I locked eyes and that was it," Samson said.
Bringing Cupcake home changed Samson's life forever. "Cupcake was different," Samson explained. "Our bond was different."
As a Type 1 diabetic, Samson can experience dangerously low blood sugar. Cupcake was able to sense when that was happening and on more than one occasion alerted Samson to the issue. "As my Type 1 diabetic alert dog she saved my life 4 specific times," Samson wrote on Instagram.
Main Street local
In 2014, Samson started bringing Cupcake to Seal Beach LaunderPet on a regular basis. Despite weighing less than five pounds, the dog made a big impression on the neighborhood. "What I wasn't expecting was how much everybody loved her," Samson said.
Cupcake liked going to the Abbey, MacFusion and knock knock Toys and Gifts to visit but she loved seeing children the most.
"She totally adored kids," Samson recalled and said Halloween was her dog's favorite day because crowds of kids would walk up and down Main Street to trick-or-treat.
"We just always appreciated the love and kindness people showed her," Samson said. "She was an amazing dog."