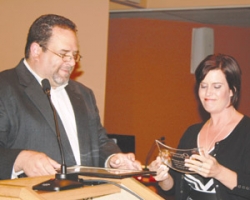 Rossmoor Community Services District Director Shannon Hough has resigned from the board effective Wednesday, April 20.
Hough said her family is moving out of state. The Rossmoor board accepted her resignation at the agency's meeting on Tuesday, April 12. The board voted 5-0 to fill the vacancy by appointment rather than holding a costly special election.
A Notice of Vacancy will be posted for a minimum of 15 days in order to make Rossmoor residents who are registered voters aware of the vacancy and to consider submitting a request to be appointed to the Rossmoor board.
At the close of the application period, the board will interview the prospective candidates. The board will then take up the matter of the appointment at the agency's May 10 meeting at the Rush Park Auditorium, 3021 Blume Dr., at 7 p.m.
The successful candidate will be sworn in after the appointment and will immediately begin serving as a member of the board.
Hough's appointed successor will serve out the rest of her term, which ends in November 2012. At that time a general election will take place for electing board members to those seats whose term has expired.
President Jeffrey Rips presented Shannon Hough with a proclamation and plaque expressing the district's appreciation for her outstanding service to the Rossmoor Community.
"Shannon has been a true leader and trusted colleague on the board. Her determination, hard work, and courage in her convictions are all traits I admire. Director Hough will be missed, but we will all profit from her contributions to Rossmoor and the entire community is better for having known her," President Rips said.
Hough has served as president and first vice president of the board. She also served on the budget and investment committees as well as the Los Alamitos/Rossmoor ad hoc committee and the Rossmoor Advisory Committee.