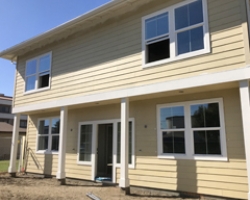 The community is invited to attend the Tuesday, March 27, ribbon cutting celebration of Precious Life Shelter's permanent supportive housing units. From 11:30 a.m. to 1 p.m., supporters, volunteers and council members can celebrate the grand opening of the organization's newest facility at 10833 Cherry St., in Los Alamitos.
The Cherry Street Units are for parenting women and their children as Precious Life has taken them from homelessness to housed.  The new units represent Precious Life's ongoing commitment to providing a safe haven for expectant women who had nowhere else to go.
Precious Life began in 1982 when founders Theresa and Dan Sherrin took four expectant homeless women into their home. In 1989, the non-profit shelter was opened and throughout the years has expanded to include single-parent efficiency units, day care for its residents and a thrift shop. The onsite training programs teach the new mothers the necessary skills for personal and professional success. Today, more than 300 volunteers help the women to become independent and successful members of the community.
To attend, RSVP at 562-431-5025 by March 22.