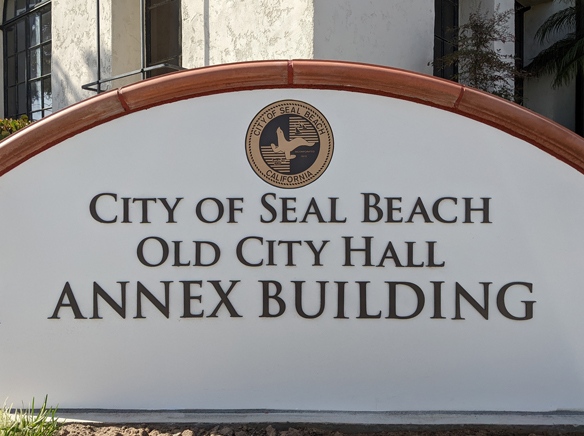 The Seal Beach Planning Commission unanimously approved a minor use permit that allows outdoor seating for the Marina Café on Main Street.
During the meeting, District Four Commissioner Patty Campbell argued that the request was not consistent with the Main Street Specific Plan. Campbell called on  the City Council to revisit the Specific Plan.
However, after the meeting, Campbell explained that she voted in favor of the permit after Planning Manager Shaun Temple said that the city code allowed outdoor seating.
The vote followed a public hearing that had continued from the April 3 Planning Commission meeting.
At the April 3 meeting, commissioners expressed concern about pedestrian congestion near the shop and asked the applicant to come back with a new plan.
Applicant Joseph Kirolos, owner of the coffee and dessert shop, came back with a plan for six seats between two tree wells, according to Associate Planner Marco Cuevas, Jr. (The original application had been for 12.)
District Three Commissioner Richard Coles said he liked the scale of what Kirolos was proposing.
District Two Commissioner Dominic Massetti said he appreciated the work that Kirolos did.
Commission Chair Campbell opened the public hearing.
Kirolos told the commission the plan had been reduced by 50%.
Robert McCone of Watson & Associates described Kirolos as a great tenant. McCone said he's had people sign a petition in favor of the permit application.
Deb Machen said Seal Beach equates success on Main Street with quaint and small. She said Main Street needs compelling spaces for people to come here.
According to Machen, happy customers return to Marina Café and to Main Street.
Campbell closed the hearing.
Campbell said the Main Street Specific Plan talks about benches. "It doesn't mention tables and chairs," Campbell said.
"If we approve this tonight, it sets precedent," Campbell said.
"We need to do this right," Campbell said.
However, Community Development Director Alexa Smittle said what was being proposed was consistent with the vision of the Specific Plan.
District Five Commissioner Margo Wheeler said whether the Specific Plan is a separate problem.
Planning Manager Shaun Temple said the Municipal Code allows for outdoor seating; the Specific Plan does not prohibit it.