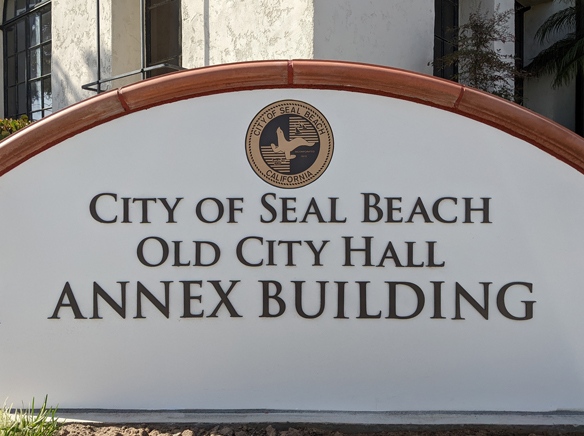 Pet Data Inc., will provide animal licensing services for Seal Beach.
The City Council unanimously approved an agreement with Pet Data at Monday's City Council meeting.
Your dog's license remains current until the end of the year.
This was originally a Consent Calendar item, which means the council would have approved it along with several other items without any discussion. However, District Four Councilwoman Schelly Sustarsic pulled the animal licensing contract for individual consideration.
Seal Beach Police Capt. Nick Nicholas gave Sustarsic a brief update and background on why dog licenses are required in Seal Beach. "Number one, it assists us with identifying dogs and their owners. In Seal Beach right now the only animals that have to be licensed are dogs," Nicholas said.
"Why is that important? Well, a couple of reasons. Number one is public safety. It helps us, if we locate a stray dog or a lost dog, to reunite that animal with their owner," Nicholas said.
He said licensing also ensures that members of the community see to it that their animals get proper vaccinations and that the animals are spayed and neutered as well.
"By requiring dogs to be licensed, it encourages responsible dog ownership and helps us enforce the various Municipal Codes related to dogs," Nicholas said.
"As you know, we are no longer with the city of Long Beach, who previously provided animal control services to Seal Beach," he said.
"Previously, Long Beach handled all animal licensing for the city of Seal Beach," he said.
He said that was another function of animal control that Seal Beach had to bring back in-house.
Nicholas credited then-captain, now police chief, Michael Henderson, with doing the bulk of the work of doing the research for the animal control project. He said during their research, SBPD identified a company called Pet Data.
Nicholas said the company handles dog licensing for several municipal and county agencies across the country.
According to Nicholas, much like the city's current parking permit program, a resident can go online to fill out the form, provide their animal's information, provide proof of rabies vaccination, and whether the dog is altered or not.
"They'll submit that to Pet Data and what Pet Data does is they will provide, really, a one-stop solution for licensing," Nicholas said.
He said the Seal Beach resident will pay Pet Data and Pet Data will maintain the database. Pet Data will provide the dog tags, which they would mail to Seal Beach pet owners.
"Everything's done completely online. They have a 24-hour customer support system and ultimately any revenues generated by cost of licensing will get returned to the city of Seal Beach," Nicholas said.
Sustarsic thanked him. "I pulled this mainly for public awareness," Sustarsic said, "so that they know we have a change coming.
Sustarsic asked about notifying people with dog licenses and people who had not licensed their dogs.
Nicholas said all current dog licenses are good through the end of the calendar year," Nicholas said.
Nicholas said everyone who has a dog license now is fine through the end of the year.
"But the reason we're bringing this before the council now really it's in the fall that we send out notices as reminders to have residents renew their dog license," Nicholas said.
"The good news is that Long Beach provided us with a list of every dog license in Seal Beach that's active and we're able to provide that information to Pet Data so they'll reach out and contact any dog owners now to remind them of and inform them of the change," Nicholas said.
"Initially, we'll have a very robust messaging campaign," Nicholas said.
"It will include press releases, social media posts, Briefing Room articles, we'll design flyers, and we're going to partner with the vets and pet stores in town where we can have displays," Nicholas said.
"So licensing your pet, you're obeying the law, but you're helping animal care programs function well," Sustarsic said.
"That's correct," Nicholas said.
"We've already had several instances, just in the few short months that we've had our in-house animal program, where we've utilized information through pet licensing to find owners of dogs or help us investigate dog bite incidents," Nicholas said.
He said he would be back in the coming weeks to provide an update on the overall animal control program.
Nicholas confirmed that the dog license costs $18 a year for a senior citizen with an altered pet.
District Five Councilman Nathan Steele said the city needed to co-ordinate with Leisure World because dogs must be licensed and registered with the Golden Rain Foundation.
District Two Councilman/Mayor Tom Moore, who participated in the meeting remotely, asked if notices would go out in January.
"Essentially, we begin messaging tomorrow, assuming that everything goes well tonight" Nicholas said.
However, he also said Moore was correct. Seal Beach will begin licensing after the first of the year when all of the current dog licenses expire.
"And that's when you'll be able to sign up with Pet Data," Sustarsic said.
"You'll be able to sign up with Pet Data almost immediately," Nicholas said.
Seal Beach started its own in-house animal control service this summer. (See "Animal Control program to start July 1" at sunnews.org.)
"In May of 2022, the Seal Beach City Council directed the Seal Beach Police Department to provide in-house animal control services for the Seal Beach community," according to the staff report by SBPD
Support Services Bureau Captain Nick Nicholas.
"Previously, the City of Long Beach Animal Control provided animal licensing services to Seal Beach,"  Nicholas wrote.
"As part of the transition to in-house animal control services, the City of Seal Beach will now be required to provide animal licensing. PetData Inc. was selected as the best provider for Seal Beach animal licensing services," Nicholas wrote.
"PetData Inc. is experienced in providing Animal Licensing Services for municipal corporations and is able to provide personnel with the requisite experience and background to carry out these duties. PetData Inc. has proposed a three-year agreement, which would extend from September 12, 2023 through June 30, 2026," Nicholas wrote.
"Animal Licensing Services will be $4.30 for each one-year license or replacement tag (amount is subject to adjustment as provided in the Agreement)," Nicholas wrote.
"This one-year license/replacement tag fee shall also be paid for each license donated or issued free of charge by the City of Seal Beach, and for each license that is issued as part of a bundling of city services or programs," Nicholas wrote.
"A $2.50 collection service fee for each late fee, if any, will be paid by a Licensee during the term of this Agreement," Nicholas wrote.
"Residents wishing to have their animals licensed shall pay PetData Inc. directly, and PetData Inc. will then pay the City of Seal Beach the licensing fees minus the costs described above," Nicholas wrote.
Editor's note: This article was updated to correct an error in the print edition that overstated the cost of a dog license for a senior citizen pet owner.