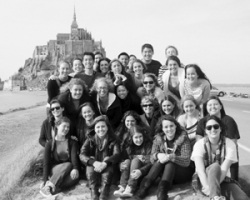 Over spring break teachers Lori Franzen and Lynda Fine took 28 Los Alamitos High School students to France.
They toured Paris, Brittany and Normandy.  Some of the highlights included visiting the Eiffel Tower, the Louvre, Notre Dame, the Opera House, Versailles, the monastery at Mont St. Michel, a day at Alain Chartier High School in Bayeux, viewing the nearly 1000 year old Bayeux tapestry and a tour of WWII D-Day sites and beaches.
At the American cemetery overlooking Omaha Beach, the high school students were invited to lay a wreath for the fallen American heroes and participate in the ceremony lowering the American flag.
Student Claire Miller said, "All this time we've been learning about World War II in books and from movies but going to the cemetery made it real. Seeing the names of those fallen soldiers and the unnamed graves was heartbreaking.
"Some people, including myself, teared up when looking at the graves. I found one soldier who died 50 years earlier on the day I was born."
It was truly an amazing way to make places, ideas and concepts studied in school come alive.  What an amazing way to spend spring break the teacher said.