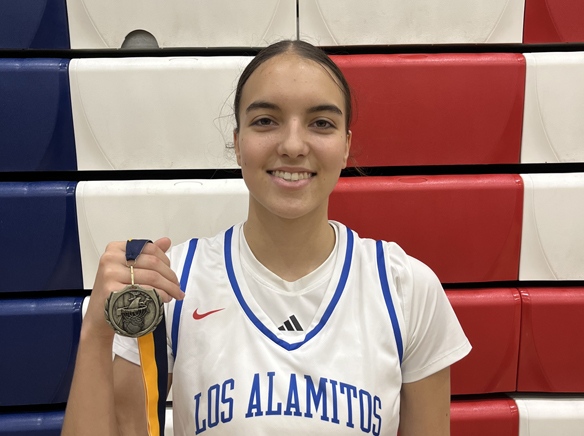 Los Alamitos Varsity Girls Basketball center Kassidy Beach was selected for the All-Tournament Team at the 2022 Larry Doyle Tournament of Champions at Marina High School after the 6'1" junior averaged a double-double in points and rebounds.
The Griffins (10-8) finished the tournament with a 2-2 record on December 30, winning their final game 64-51 over Capistrano Valley Christian High School (1-2).  In that victory, Beach grabbed 14 rebounds, and scored 7 points to go along with 3 steals and a blocked shot.
For the tournament, Beach averaged 10.7 points and 10.7 rebounds per game.  For the season, Beach is averaging 8.6 points and 8.4 rebounds per game.
"Kass continues to improve each week," said Griffins Head Coach Maya Kennedy, "and it's been fun to watch her growth this season."
In a separate junior varsity tournament — the 13th Annual Lady Spartans Winter Shootout at Villa Park High — sophomore point guard Katie Nakagawa was selected to the JV All-Tournament team, leading the JV Griffins (12-4) in points and assists.
In the four-game JV tourney, Nakagawa averaged 8 points a game to go along with an average of 3 assists and 3 steals a game.
In the December 30, double-overtime 34-33 loss to Villa Park (13-4), in the Consolation Final for third place, Nakagawa scored 15 points and had 3 assists and 3 rebounds.   The JV Griffins finished the tourney with a 2-2 record.
The Varsity Griffins next home game is against Fountain Valley High on Jan. 12, at 7 p.m.  The Frosh/Soph and Junior Varsity teams will play at 4 p.m. and 5:30 p.m. respectively.