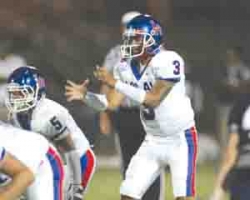 Led by senior Quarterback Dylan Lagarde's five first-half touchdown passes, the Los Alamitos High School Griffins Varsity Football Team overwhelmed Mayfair 56–21.
The event was a non-league contest at Bellflower High School.  The Griffins are now 2 and 0 for the season.  There were three long touchdown catches by LAHS senior Josh Caiquo and one each by seniors Kendall Holmes and Kyle Roberts.
A quick touchdown by running back Cody Paul of 2 yards and an interception by Roberts set up another touchdown by Paul and a blocked punt by Sam Corder-Lee set up a fourth, first quarter touchdown and propelled Los Alamitos to a huge victory.
The defense was led by senior safety Terrance Brown and senior defensive back Kyle Roberts, who had two interceptions.
The Griffins play Friday, Sept. 16 in Los Angeles at West Adams Prep.
The game time is 7 p.m.