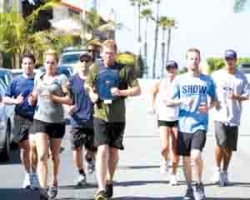 Beach Fitness/CrossFit Seal Beach, participating in a nationwide fundraising initiative that raises money for charity, will host its inaugural CrossFit Fight Gone Bad event to raise funds for for Special Operations Warriors Foundation, Infant Swimming Resource, and Camp Patriot on Sept. 17.
The one-day workout puts participants through a grueling workout at CrossFit affiliates nationwide.
This year's event will include over 8,000 CrossFit athletes from over 1,200 locations worldwide.  "Fight Gone Bad" captures the athlete's passionate commitment to personal fitness and strength while utilizing that same passion to raise money for causes that address immediate needs in our country," said Barbara Bartee, CrossFit Seal Beach owner.
In the first five editions of the Fight Gone Bad fundraising event, CrossFit Affiliates have raised more than $4 million.  Fight Gone Bad is not for the faint of heart.  Training this way requires courage, patience and a willingness to learn. The workout fight consists of: throwing a 20-pound medicine ball against a wall eight feet high; sumo dead-lift high pulling of 75 pounds; jumping on a 20-inch box; push-pressing 75 pounds; and rowing on a stationary row machine.
Each movement is done for the maximum repetitions for 1 minute with each repetition counting for a point (rowing is scored by the number of calories burned). Each of the five movement series is followed by a one minute break, and is then repeated three times to complete the workout.
In a highly competitive, yet friendly atmosphere among CrossFit affiliates, each team will try to accumulate the highest amount of repetitions possible. Prizes and special recognition are given to those teams and individuals with the highest scores after the event's conclusion.
"The entire team at CrossFit has been behind the Fight Gone Bad fundraiser from the first year (2005). Because of the phenomenal growth and increased popularity of this workout, we're looking forward to our best year ever," Bartee said.
Interested individuals can register for the Sept. 17 Fight Gone Bad fundraiser by going to Crossfitsealbeach.com.  For more information or to donate to the event,  visit fgb6.org.