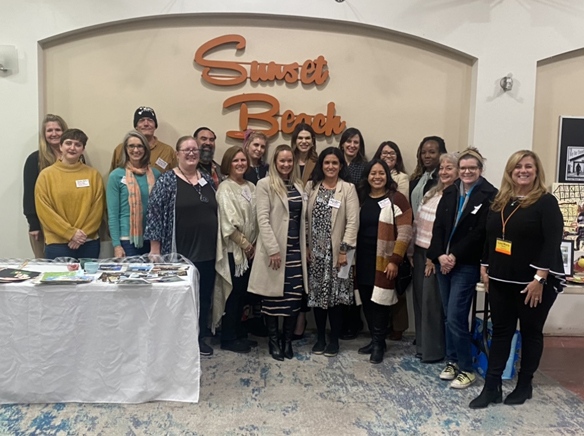 Las Damas, a Sunset Beach philanthropic organization held its annual grant celebration recently at the Sunset Beach Firehouse. In all, more than $36,000 was distributed, with representatives from eight local schools and five service organizations on hand to receive grant funds.
The recipients on hand shared some of the things they do and their function. The money given is raised at the annual Sunset Beach Art Festival put on every Mother's Day weekend. To that theme, the money given to schools is earmarked for art education. Karissa Farrell, Los Alamitos High's Visual Art Chairman said that the money will go towards a visual art gallery the school is setting up.
"This philanthropy meeting is really the 'heart and soul' of what we do at Las Damas," Monica Brady, Chair of the Las Damas Philanthropy committee said of the event.
Some of the students and teachers brought samples of the art they are producing in their programs. The schools who received funds were Huntington Beach High School, Marina High School, Dwyer Middle School, Smith Elementary School, Los Alamitos High School, Oak Middle School, McGaugh Elementary School, and McAullife Middle School.
The service organizations were Waymakers HB Youth Shelter, Thomas House Family Shelter, Casa Youth Shelter, Precious Life Shelter, and NAMI (National Alliance on Mental Illness) of OC.