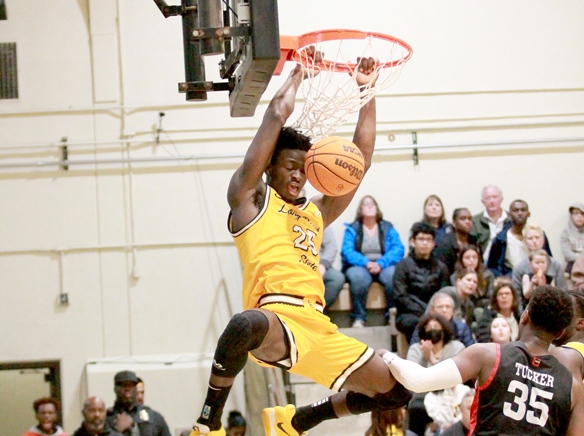 The Long Beach State men's basketball team held off a Cal State Northridge challenge and snapped  three-game losing streak as they improved to 10-8 in Big West Conference play with one week left in the regular season.
The Beach led by 55-44 with 7:49 left in the game, but Northridge was able to go on a 15-4 run to tie the game 55-55 with 4:28 left. However, the Beach defense re-grouped as they were able to regain the edge. When Marcus Tsohonis hit a three-pointer with 1:43 left in the game, Long Beach led 69-62 and was able to keep the Matadors at bay.
"They (CSUN) made a lot of great shots and really tested us, but our guys were really resilient at the end," Monson said.
Due to flooding issues in the Pyramid under all the heavy rains, a decision to move the game to the campus gym was made the morning of the game. The game was played in the Gold Mine, the former venue from days past. Head Coach Dan Monson said they tried to use it as a positive, making quick mental adjustments, like they might in tournament play.
"We wore our throwback jerseys because it was a throwback where Long Beach State had a lot of success in that gym," Monson said.
The last time a Long Beach player recorded a triple-double was in the '90s, back in the Gold Mine Gym. Sophomore forward Aboubacar Traore nearly posted another one as he scored 17 points, grabbed 12 rebounds and had eight assists. Lassina Traore led the team with 18 points, while Tsohonis had 12 and AJ George added 11. Northridge's De'Sean Allen-Eikens had a game-high 21 points.
Long Beach has two games this week, Senior Night tonight at the Pyramid against CSU Bakersfield, starting a 7p.m and then a 1 p.m. game at UC Davis on Saturday. Monson said they need to win both games to avoid having to play a Big West Tournament game on Tuesday.
The bottom four teams play Tuesday, with the winners moving into the bracket of eight, starting Thursday.
With two wins, the Beach would, at minimum, leapfrog Davis for the sixth spot, thus avoiding having to play an extra game.
"That's how we got look at it, so as we said, our journey to the NCAA tournament has already started, we got to win the next five games to go the NCAA tournament in our mind," Monson said.
Long Beach was the regular season Big West champions last year and the No. 1 seed in the tournament, but lost to Cal State Fullerton in the tournament finals. The Titans went on to represent the Big West in the NCAA Tournament. Long Beach hasn't advanced to the NCAA since 2012.