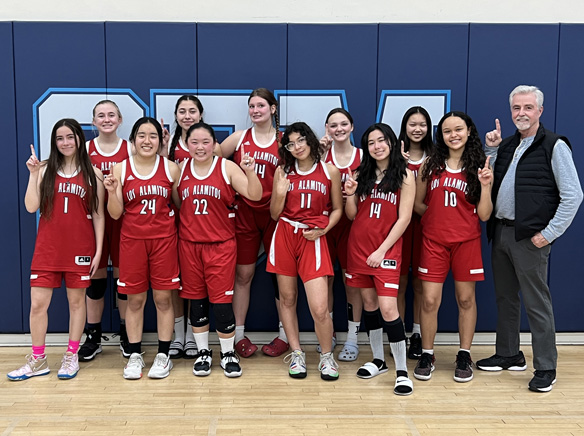 The Los Alamitos High School Junior Varsity Girls Basketball team won a share of the Surf League Championship by defeating Corona del Mar High 47-39 in the final game of the season.
The hard-fought, Wednesday, February 2, victory secured the Los Alamitos Griffins (20-2) a Surf League co-championship with Fountain Valley High School, as both teams finished JV Surf League play with identical 5-1 league records.
In the championship-clinching victory, the JV Griffins were led in scoring by Mariko Nagata with 11 points, including three 3-pointers.  Katie Nakagawa and Sammi Nakahara each scored 8, followed by Bryn Pagett with 6 and Ava Duarte with 5.
Pagett also grabbed 12 rebounds and had 5 steals.  Center Dani Townzen pulled down 10 rebounds and played stellar defense, altering many shots in the paint.
The first half ended with the Griffins ahead by only one point, 20-19, but in the third quarter, the Griffins grabbed an 8-point lead by outscoring Corona del Mar 15-8.  In that decisive quarter, Kaili Burke and Nakagawa led the scoring with 4 points each.  Each team scored 12 points in a competitive final quarter.
The JV Griffins had earned the chance at a co-championship by avenging an earlier loss to Fountain Valley by defeating the Barons 40-30 in their second meeting on January 29 at the Los Alamitos High School gym.  In that game, Duarte led the scoring with 7, followed by Nakagawa and Karly Padova who each chipped in 6 points.
Counting the Griffins' 10 preseason wins, the JV team had an overall record of 30-2 in games played from late September through February 2.