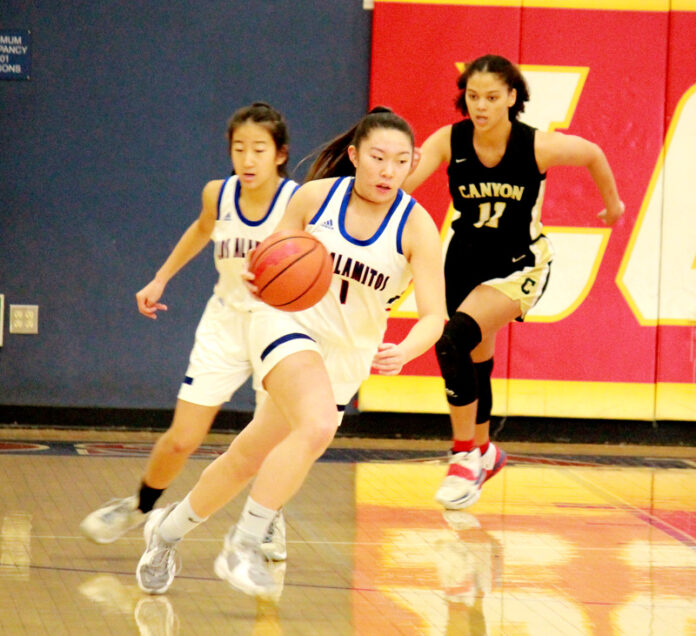 The Los Alamitos High School Girls Varsity Basketball team decisively defeated Surf League rival Corona del Mar 51-38 in the last game of the season, avenging an earlier double overtime loss and dominating the Sea Kings 43-21 in the final three quarters.
Leading a balanced offense in which seven Los Alamitos Griffins players scored, Elise Marquez netted 15 points, followed by Kassidy Beach with 11, and Kayli Liew with 9.
Los Alamitos (14-8) started the Wednesday, February 2, road game slowly by falling behind the Corona Del Mar Sea Kings 17-8.  However, the tide turned on the Sea Kings as the Griffins came out inspired in the second quarter and outscored their opponent 22-8 to take a 30-25 lead into halftime.
The momentum continued as Los Alamitos outscored Corona del Mar 21-13 in the second half to dampen the Sea Kings' Senior Night celebrations.
The win avenged an earlier double-overtime 49-44 loss to the Sea Kings (14-11) on January 18.  Learning from that game, Griffin Head Coach Maya Kennedy made several defensive adjustments, including double teaming the Sea Kings center Makena Tomlinson and holding her to 11 points and 10 rebounds.  In the earlier double-overtime loss, Tomlinson had scored an overwhelming 24 points with 18 rebounds for Corona del Mar.
Los Alamitos finished third in the tough Surf League with a 2-4 record but still are ranked fifth in the Southern Section Division 3A by CIF pollsters.  The sports website Maxpreps ranks Los Alamitos eighth in Southern Section 3A, based on a computer-generated formula that includes strength of schedule among other factors.
However, apparently because of multiple ties for final automatic bids in Division 3A, the CIF Southern Section announced on Tuesday, February 8, that there were no openings for an At-Large bid to the CIF playoffs, so Los Alamitos will have to be content with finishing strong in its last game of the regular season.  Los Alamitos has a very young team, starting five sophomores, so the future looks bright.
The Griffins started the season 7-1 but had to regroup following the season-ending injury of starting guard Megan Lee on December 18.  Several very close losses followed, including by one point to Valencia, and double overtime losses to Fountain Valley and the Sea Kings.  The very convincing victory Wednesday over a good Corona del Mar team suggests that Los Alamitos had adjusted its rotations to a winning formula and was ready for CIF playoffs had there been an opening.