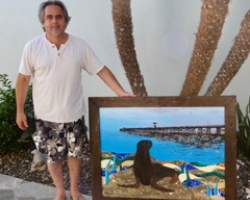 "The sun will be shinning to welcome the day, Heigh-Ho come to the faire! All the stalls on the green will be fine as can be, with trinkets and treasures for you and for me, so it's come then, young folks and old, to the Faire in the pride of the morning!"
The lyrics of this old Irish folk tune set the mood to gather kith, kin and friends and come to the 40th Annual Seal Beach Arts & Crafts Faire, sponsored by the Seal Beach Lion's Club, Saturday, September 9th, 9:00 a.m. to 6:00 p.m. and Sunday, September 10th, 9:00 a.m. to 5:00 p.m., Eisenhower Park at the Pier. Arts and Crafts vendors, over 100 in total, will be there to display their wares of infinite variety.
Would you like a handmade leather bag? Visit the Bohemian Rags booth. Does your fancy tend to colorful glass birdbaths, flowers and tabletop items? Carol's Creations in Glass booth is there for you to behold. And if you covet a truly beautiful, uniquely fashioned art printed fabric tote bag, the OC High School of the Arts Oshop booth is for you! But don't stop there. You have 100 or more booths to explore, plus enjoying food, music and entertainment.
The creative arts abound and Seal Beach's own Gino Dominic Nardo, has been creating artwork in a variety of mediums since 1974 and is celebrating his 25th year displaying his works at the Arts and Crafts Faire. He crafts a unique and detailed creative vision in a variety of ways, including paintings, drawings, three-dimensional pieces, multi-mediums, woodworking, glass and ceramics, vases, plates, bowls and artistic photography. "Recently," Gino comments, "I have been developing my latest venture, successfully focusing on making custom ordered wood items that include tables, mirrors, shelves, benches, mantels, incense burners, candle holders, coat and key chair holders, frames with custom photos, wedding and garden arches and plant troughs. Most importantly, all these items are crafted with 25 plus year-old Seal Beach Pier wood decking. I've found my customers really love having a piece of Seal Beach history in their homes."
Not only is his a "must see" booth, but also stop by the Women's Club of Seal Beach's plant sale booth and pick up a beautiful and healthy plant or two to beautify your home or garden. The Women's Club, celebrating 94 years in the Seal Beach community, (in 2016, 81-members strong), continues to be committed to supporting and promoting educational and civic and charitable advancement through volunteer service. It's a "win-win" at their booth!
Dare it be said that it is not too early for Holiday shopping? The Seal Beach Arts & Crafts Faire can fulfill your every gift wish list. Heigh-Ho, come to the Faire!