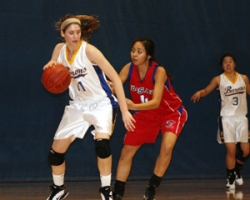 Boys Basketball
The Griffins opened the season on Tuesday, Nov. 22, at the Mission Viejo tournament and had two tough games right out of the shoot. The Griffins opened the tournament against Mater Dei on Tuesday and will play Mission Viejo today at 8 p.m. at Mission Viejo High.
The Griffins have some experience returning but will need to find the points to replace the graduation of Camryn Crocker, who put up more than 20 points per game last year. Ryan Hurst returns after averaging nearly nine points per game and guard Chris Kapano put up nearly seven points per game. The Griffins will finish pool play at the Mission Viejo Tournament against Capistrano Valley at 6:30 p.m. on Friday.
The Griffins finished last season at 21-9 overall and 8-2 to tie for the Sunset League under coach Eddie Courtemarche. They reached the second round of the CIF-SS playoffs.
Cypress tries to keep pace
Cypress started last season hot, winning their first five games and 10 of the their first 13. But the Centurions stumbled down the stetch, finishing fourth in the Empire League. They qualified for the CIF-SS 3-AA playoffs and reached the second round, but this year is likely to be another tough run in a balanced league.
The Centurions opened at the Godinez Touranment this week and will continue through Saturday. They host Savanna on Dec. 9 for a non-league game and will be at two other tournaments this month, Westminster (starting Dec. 12) and the Century Tournament (starting Dec. 26).
Kennedy finished strong
Kennedy took second place in the Empire League last year with a 9-3 record and went 21-7 overall. The Fighting Irish reached the second round of the CIF-SS 3-AA playoffs before falling to Corona del Mar in a tight road game. After an early league loss to Pacifica, Kennedy's only league losses were to eventual league champion Valencia, which went undefeated in league play.
Girls Basketball
Griffins have front, backcourt experience
Los Alamitos lost their top two offensive scorers from last year, but return some key players who were contributors last year. Guards Keiko Nomura and Lauren Yamada should give the Griffins some solid backcourt experience and senior center Haley Gorman averaged nearly six points per game last year, for the team's third highest average. The Griffins were 16-12 overall last year, but were fourth in a tough Sunset League field. They qualified for the CIF-SS playoffs with an at-large bid and reached the second round of the playoffs with a 55-42 road win over Walnut High.
The Griffins opened their season last week with a 40-19 win over Lakewood on Nov. 22. Senior guard Lauren Yamada was selected player of the week with a 12 point, four rebound, three assist and three steal night. Nomura and Gorman each had eight points, while Katelyn McCutchen added six points. Gorman also grabbed a team-high eight rebounds and Erika Nilsen added seven rebounds.
The Griffins are at the Century High Tournament this week. They opened against Buena Park on Tuesday (past our deadline) and will play Loara on Thursday at 5:30 p.m. They will play El Dorado on Friday at 8 p.m. to finish pool play and will wrap up the tournament on Saturday with a game TBD by their finish in pool play.
Cypress High can build on big season
The Centurions finished second in the Empire League last year and reached the quarterfinals of the CIF-SS Division 2A playoffs. Cypress was 21-8 overall. The Centurions are at the Vernie Ford Tipoff Classic Tournament this week at Fullerton High. They will also compete in the Segerstom and Savanna Tournaments in December.
Kennedy High returns experience
The Fighting Irish finished third in the Empire League race, one game back of Cypress. Kennedy was eliminated in the first round of the playoffs, but should be a tough team to beat this year with their three top scorers all returning. Junior Aikane Higa led the team last year with 16.4 points per game and senior Savannah Johnson added 10.6 last year as a junior. Anther junior Michelle Furuya returns after a solid sophomore season.
Kennedy went 16-11 overall and was 8-4 in league play.
Photos by Ted Apodaca
Lauren Yamada, right, pictured in a game last season, was the first Player of the Week for the Griffin girls basketball team in a win over Lakewood on Nov. 22.
Senior guard Chris Kapano, pictured in a game last year, will be one of several returning players who will lead the Griffins this season.
Los Alamitos girls basketball roster
00            Elise Laws                        PG            So.            5-3
2            Alyssa Tayenaka (C)             PG            Sr.            5-4
4            Lauren Yamada (C)             G            Sr.            5-7
10            Susanna Infante (C)             G            Sr.            5-7
12            Ava Yale                        F            Jr.            5-10
13            Keiko Nomura (C)             PG            Sr.            5-6
21            Katelyn Mccutchen            G            Jr.            5-6
22            Cassidy Given                        C            Jr.            6-1
23            Samantha Nguyen            G            Jr.            5-6
25            Erika Nilsen                        F            So.            5-10
32            Haley Gorman                        C            Sr.            6-1
33            Kylie Webster                        G            Sr.            5-6
41            Bayley Hagino            G            Fr.            5-1
43            Maryanne Rofail            F            Sr.            5-6