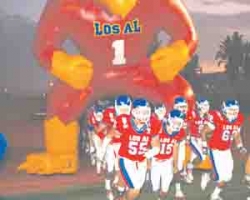 Los Alamitos didn't get the revenge they were looking for against Santa Margarita, as they suffered their first defeat of the season, 38-27, from the Eagles on Thursday at Veteran Stadium.
The Griffins rallied for 14 points in the fourth quarter to cut the deficit, but the hole was too deep. Running back Cody Paul rushed for 136 yards and two touchdowns, while quarterback Dylan Lagarde passed for 158 yards and two touchdowns. He connected with Kyle Roberts late in the game and with Josh Caiquo early for a 61-yard touchdown that gave the Griffins a 14-7 lead in the first quarter.
The Griffins (4-1) have a week off before opening Sunset League play against Edison. On paper, the Griffins and Chargers look like the teams to beat in the Sunset League race, but it will be a weekly challenge for whichever team wins the title.
The Chargers (3-2) suffered a close loss to Mater Dei last week, but bring a potent offense. The Griffins gave up 216 rushing yards to Santa Margarita's Ryan Wolpin and 132 to Johnny Stanton.
Huntington Beach prepares for Sunset League play after a 4-1 non-league start, with their lone loss coming against San Clemente, which is undefeated and ranked No. 4 in the CIF-SS Pac-5 rankings. Fountain Valley is 3-2, despite being without its starting quarterback since their loss to San Clemente. They battled in a tough loss to Trabuco Hills, another South Coast League team getting notice in the CIF-SS rankings.
Newport Harbor has struggled to a 1-3 start after losing their top running back to a transfer just prior to the start of the school year. Still, the Sailors and their coach Jeff Brinkley, usually find a way to compete, and a close 24-12 loss to San Clemente last week indicates they may be finding their way just in time for league play.
Marina is also 1-3 and trying to rebuild their program from recent tough times. However, trying to rebuild a program in the Sunset League is like trying to build a beach house in a hurricane. Still, the Vikings have improved and could play spoiler.
The Griffins will play Edison at Huntington Beach High on Oct. 13 at 7 p.m.