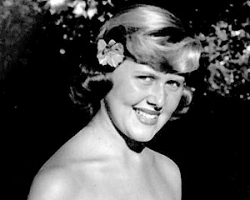 For me, in the early '50s the town was about the beach and the people.  My family moved to Seal Beach from La Canada/Flintridge in 1953 to "Try it out for awhile, see how we like it."  My mother was tired of the smog and summer heat and I had just graduated from high school. There were some cultural adjustments to make.
My sister, Marilyn, and I liked to walk to the old restaurant at the end of the pier. We especially liked listening to the woman that played an upright piano and sang with gusto. Hardly anyone was ever in there. The friendly surfers and lifeguards who lived in town were knocking on our door the first week in July after we moved in wanting to show us around.
My dad was easy going, affable.  He kept our teenage friends interested with his delightful sense of humor and always had a good story to tell.  Maury Beam was a reporter for the Los Angeles Times and was part of the Los Angeles County Press Corp. covering the Board of Supervisors.  Now he could cover little old Seal Beach council meetings also and he was delighted.
The biggest issues at city council meetings were weed abatement and trying to pass an ordinance against gambling. If you ever attended a city council meeting in those days, you had some good entertainment.  Councilmen would shout and citizens would become quite emotional and shout back. Gambling was voted out in 1954 and Mr. Beam was a big influence in that decision.
It seemed to me as if there were very few people in town.  Someone told me there were 700 residents in town so how could I think that?  We were isolated with the river on one side and the Navy base on the other and behind us was the vast Hellman Ranch.
Very few ever ventured out of town because not many of us had cars. When my father drove me to Orange Coast College on my first day, there was not one car on the road. Nothing but agricultural fields as far as one could see.   I took the OCC school bus that picked us up in Seal Beach on Main Street every day. Funny how it was in those days.
Surfing was a favorite pastime. When the surf rose to enormous heights and those who "borrowed" the Surf Sphinx from the Pacific Coast Club or the Villa Riviera, depending on who you listen to as to where, say because of paying homage to it caused Seal Beach to be the place to surf.
On 13th Street in front of Blackie August's house in particular and "Ray Bay" at 1st Street is where they wanted to be.  We met Chi Kredell, Jack Haley, Lloyd Murray, Harry Schurch, Alan Harbour, Dave Privett, Harold Walker and Tim McElrath, who either lived here a long time or were born here.  They were the "watermen."
Some still remember hanging out at the Beam house on 8th Street right across the street from City Hall where alcohol was not allowed but the parties at Pat and Blackie August's house is where the surfer's favorite beverage, "Green Death" flowed, also known as Carlings Red Cap Ale.
They were an interesting crowd, full of laughter and storytelling about their latest surf adventure down to "San-O" in cars for which they paid $50 and all piled into. Most of the stories were exaggerations. Some of you who knew these characters know who told the biggest whoppers.
Most jobs as lifeguards were seasonal, going to college during the winter. So they weren't surf bums.
Another pastime with a younger group was dancing on the hill on Hellman property when every guy who owned a car, four to be exact, would park in a circle with their lights on and the same radio station blaring with dance music.
Where the lights shown, was where we danced.
Benny Garza, a local policeman, would keep an eye on us to make sure everyone remained in Seal Beach, then told us when it was time to go home.
I had a job every summer since I was fourteen.  L.A. County jobs came in the form of working at the main branch of Los Angeles County Public Library for three years and a job at Rancho Los Amigos Rehab for polio patients as an occupational therapist aide.  But on weekends I could dance under the stars on Bullet Hill, walk two blocks to the beach and dig for clams that were the size of golf balls.
I received an AA Degree and was ready for Long Beach State.
 Nancy Sebring Shook and I decided on a trip to Hawaii after saving our money from working one year as secretaries at Van Camp Sea Food Co. on Terminal Island.  Our parents delivered us to the airport and we took off. We promised ourselves we would continue our education after we got down to 50 cents. We wanted to surf.
We found our friend, Harry Schurch, one of Seal Beach's surfing legends, stationed in  Waikiki while in the Navy, with his new wife, Pat August Schurch, Blackie August's daughter.
He introduced us to Bruce Brown who became a famous surf filmmaker and John Severson who became the owner of Surfer Magazine.
Bruce was just starting to film surfers.  He took movies of Nancy and me while we were drowning in the 30-oot surf at Makaha on the North Shore of Oahu.
We finally saved ourselves while he kept filming us crawling up on the beach.
But what did we think of them?  A couple of surf bums who would never amount to much.
We did not have surfboards there because we surfed Waikiki, not Sunset or Makaha.
Every morning we knocked on Harry's door and asked him to take us with him wherever he was surfing that day.
He was a very patient guy and seemed to enjoy telling us about the lore and mystique of surfing and taking us on guided tours of the attractions.
Pat thought it was all a bore so never wanted to go with us.  She was starting up a radio station on the island and had better things to do.
In 1957, we returned after two months because we were down to $1.00, moved back home with our parents and obtained part time jobs at the Bay Theatre after enrolling at Long Beach State in January as teaching majors.
I would  answer the phone in the glass booth that used to sit in the middle, out front and sell tickets every Friday night and Saturday afternoon, then close up to run inside to help Nancy sell popcorn and candy.
Yes, we got to watch some of the movies for free through the curtains.
The Bay Theatre hasn't changed.
The bathrooms and theatre seats look the same as well as the wall decorations.
The nostalgia  still exists in good old Seal Beach.  I am glad our family decided stay and I am over my culture shock.
P.S.  Harry Schurch became famous as the first to surf Waimea Bay a month after we left.  It was noted as life threatening.