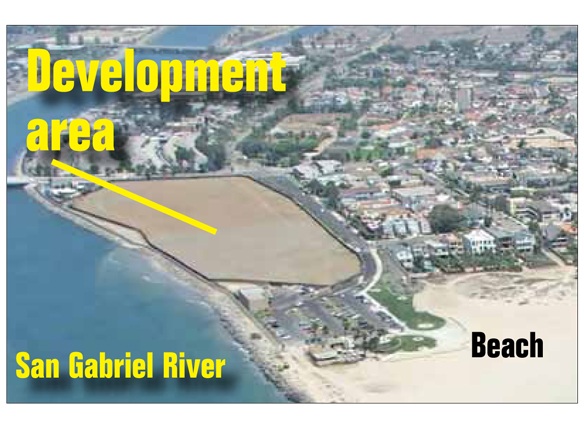 The developers of the former DWP property on First Street, now called Ocean Place, hope to have a sales office open in January, Bob Yoder, division president for Shea Homes Southern California, recently told the City Council.
Residents along First Street have probably seen or heard the grading work, which began last week.
Yoder conceded that Shea Homes didn't get started as quickly as they would have liked. They got the grading permit early, but overlooked a requirement to build a temporary soundwall on First Street to minimize the noise of the grading work. Yoder said grading work would be a two-and-a-half-month operation.
Shea Homes bought the property, earlier this year from the Bay City Partners for more than $36.6 million, accoding to CoreLogic.
Of the 10.9 acres between the San Gabriel River and First Street, 6.4 will be a public park, as the Sun has previously reported. Yoder said park work would begin in earnest in about two months. (Yoder said much the same thing when the Sun interviewed him in July.) Yoder said the work on the park would begin concurrently with sewer work and roads for the residential area of the property. The park will be built by Shea Homes and given to the city once complete, a requirement that was imposed on the project before Shea homes bought the land. Yoder said they hope to begin building model homes in January and have open models on site in May or June. Shea Homes has 10 floor plans that will be available for propsective property buyers. In July, Yoder said that 30 homes would be built.
District One Councilwoman Ellery Deaton said she appreciated the fact that everything will be built at once.