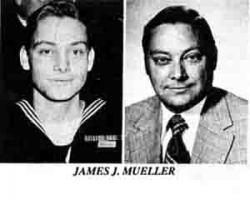 "Landing Ship, Tank was the military designation for naval vessels created during World War II to support amphibious operations by carrying significant quantities of vehicles, cargo, and landing troops directly onto an unimproved shore." (Wikipedia)
James Jean Mueller, U. S. Navy, Motor Machinist Mate Third Class.
Jim's parents and close relatives were elated about his birth on February 12, 1926 in St. Louis, Missouri.
Youth:
My parents had moved out of of St. Louis during the depression. They had half-acre lots where they built houses; had fruit trees and vegetable gardens; and raised chickens to supplement their incomes.
I met Audrey Schmidt when I was 6, and she was 5.
We attended the same elementary and high schools, but were not close friends.
I only went to high school for two years. I left to accept an offer to be sponsored as an apprentice machinist at Busch-Sulzer, a Diesel engine manufacturer.
One day after the war started, my mother and Audrey's mother met while shopping. My Mom told her, "Jim has joined the Navy, and he'd probably like Audrey to correspond with him."
When Audrey's mother reported the conversation to Audrey, she said, "No, we were never that friendly, and I don't want to write to him."
Audrey's mother promptly said, "Yes, there is a war on, and Jim is in the Pacific and fighting for our country, so you are going to do your part and write to him."
Well, of course, she did write and I answered.
By the time my next leave came around, Audrey and I had started dating. We continued to correspond.
Military life:
Two of my closest friends and I enlisted in the Navy on May 8, 1944. Two days later I was aboard a train headed to Camp Farragut Naval Training Station's Camp Waldron.
After my basic training, I was sent to Camp Bradford for amphibious training, fire fighting, gas recognition, and mock-up drills on a famous wooden LST.
On October 4th, our unit was moved to Camp Little Creek where we boarded LST 187 for cruising and training on Chesapeake Bay.
Then we joined the crew of the LST 915 which was in dry dock at the Norfolk Navy Yard.
On October 29, our crew was sent on the Pennsylvania Railway to Pittsburgh, and later taken by truck to the Carnegie Institute of Technology where we trained until LST 890 had been completely built.
My last day of lugging a duffel bag was on November 11 when I boarded my new home for the next two years.
During my time in the Navy, I received Campaign medals and ribbons for service in Okinawa; one, with the American Area Campaign; the Asiatic-Pacific Medal with one star; the Japanese Occupation Medal; and the World War II Victory Medal.
Civilian life:
With an Honorable Discharge from the Navy on October 12, 1946 in San Francisco, I returned to St. Louis and went back to work with Busch-Sulzer for a year.
I became employed in Field Management by the Buick Motor Division of General Motors.
In my years with Buick, I started in March in 1946 as a Mail Room clerk in St. Louis and eventually became a District Manager in Los Angeles; the Zone Manager in both San Francisco and Atlanta; and Area Manager for the Northeast States out of the Philadelphia Office.
I retired in Jacksonville, Florida., on March 1st in 1982 after 35 years.
A short time after I had left the Navy, Audrey and I became engaged. It was on May 17, 1947, that Audrey M. Schmidt became my wife,
We moved to California with our four-month-old baby girl. Eventually, we gave birth to our daughter, and three sons.
We have nine grandchildren and eight great grandchildren.
We just celebrated our 64th wedding anniversary in May 2011.
Audrey and I live in Leisure World, Seal Beach.
I play golf in some of the many Clubs in Leisure World.
I've always been an avid stamp collector and continue this hobby even today.
Veterans activities
I became a member of the Seal Beach Veterans of Foreign Wars Post 4048.
Our Post members became greatly involved in collecting and delivering canned goods, clothing, blankets and other vital survival supplies to the Red Cross after several forest fires and floods in other nearby counties.
I served as editor of our Post newsletter for five years, and served three one-year terms as post commander; also as adjutant for several years.
I have always enjoyed our participation with the American Legion Post in our combined presentations of Memorial Day and Veterans Day Ceremonies at Eisenhower Park in Seal Beach; also in our Flag Retirement Ceremony we present at a local elementary school each year.
Audrey was a charter member of our American Legion Post 857 Ladies Auxiliary.
Along with the other Ladies in the Auxiliary, Audrey has worked in assisting needy Veterans and their families.
Bill Thomas is a World War II veteran and longtime resident of Rossmoor.