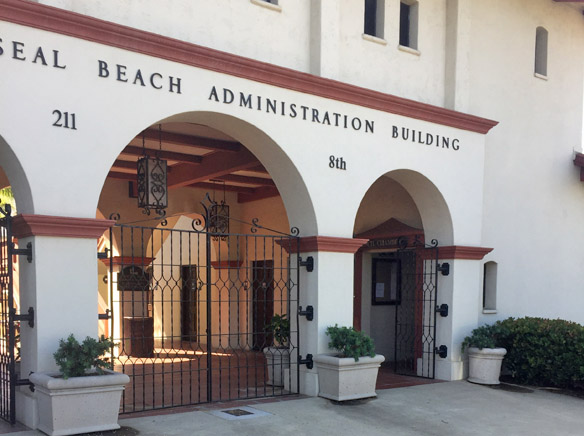 The City Council voted unanimously to amend City Manager Jill Ingram's contract to give her a raise to be phased in over a two-year period.
The pay raise was originally part of the Consent Calendar, which is voted on without discussion by the council, but the item was pulled for discussion.
City Attorney Craig Steele told the council that the proposed amendment would only change Ingram's salary, not her benefits.
Seal Beach resident Robert Goldberg had raised questions about the increase in an email containing multiple questions for city officials. Copies of his questions were made available to the public at the meeting.
"The staff report fails to mention that in addition to the increases in base salary, the previous two contract amendments each included an increase in Ms. Ingram's deferred compensation of $3,500," Goldberg wrote.
"However, the staff report correctly noted that her contract does not provide a comparable 5% seniority bonus at 10 years of service," Goldberg wrote.
According to City Attorney Craig Steele's Dec. 9 report, the council directed Steele to prepare the amendment to the city manager's contract (the fourth to date) at the end of the city manager's recent performance evaluation so the council could consider the pay increase in open session.
"Ms. Ingram's salary was last increased as of January 1, 2017," Steele wrote.
"In the intervening time, the City Council has awarded other City employees cost of living increases of 2.7% as of July 2017 and 3% as of July 2018, and another 3% increase is under consideration to be retroactive to July 2019," Steele wrote.
"According to information provided by staff effective July 2019 regarding City Manager compensation in other comparable cities, Ms. Ingram's current salary is below the market median by 7.57% or $17,460 annually," Steele wrote.
The Sun has filed a California Public Records Act request for the information comparing city manager compensation.
"Other employees are also able to increase their salaries by progressing through a step system, and through longevity pay increases. Although Ms. Ingram has been employed by the City long enough to receive a 5% longevity-based pay increase, her contract does not make her eligible for that benefit available to other employees, and her salary has remained the same since January 2017," Steele wrote.
"In year one, this amendment would increase Ms. Ingram's annual base salary to $239,828.58 to be paid effective as of [the] first full pay period in July 2019, which is a 4% increase over the current base salary of $230,604.41," Steele wrote.
"Then, effective first pay period on or following July 1, 2020, Ms. Ingram's annual base salary would increase by an additional 5% to $251,820.01," Steele wrote.
"Approval of Amendment Number 4 to the City Manager's Employment
"Agreement will have a financial impact of $9,224.17 in FY 2019-2020 and $11,991.43 in FY 2020-2021. Sufficient funding was budgeted in the FY 2019-20 Budget and sufficient funds will be budgeted in the FY 2020-21 Budget to fully cover the cost of the proposed increases," according to Steele's report.