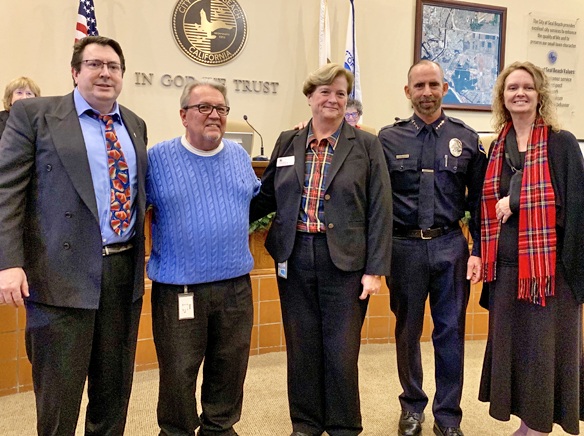 Police chief, finance director, accountant and building inspector retiring
There was laughter, tears and a lot of acknowledgements at a packed Seal Beach City Council Chambers Monday night as staff, council members and the community bid farewell to four retiring city employees during the Dec. 9 city council meeting.
Seal Beach Police Chief Joe Miller, Finance Director Victoria Beatley, accountant Dan Dillon and building inspector Brian McKinney are all retiring from their jobs with the City of Seal Beach.
Miller spent his entire 31 years in law enforcement with the SBPD; the last three as the top cop where he pushed to hire more officers and championed Community Oriented Policing teams. His final day on the job was Nov. 30. SBPD Commander Phil Gonshak became Chief on Dec. 1.
"It's been a pleasure to be here for 31 years," Miller said at the podium. He pointed to the many police department employees in council chambers and said, "These people over here are the best."
Miller got choked up when talking about his family's support of his career in law enforcement as his wife and three sons looked on from the audience. "I'm getting old so I get super emotional," Miller, who is 53, said to laughs as he paused to compose himself.
"Crime's gonna go through the roof," he joked but was quick to say that Chief Gonshak was going to do a good job. A video of pictures of Miller throughout the years was shown.
A smiling Beatley teased Miller that she wasn't going to cry as she took the podium and proceeded to express thanks to her family. Beatley made a point to praise her boss saying City Manager Jill Ingram created a "culture focused on the needs of the residents."
Beatley has been in charge of managing the city's finances since 2012. In addition to crafting budgets during some fiscally challenging years for the city, she was also instrumental in the creation of Measure BB, the one-cent sales tax increase approved by voters in November 2018.
Beatley's last day is Dec. 19 and the city will be interviewing potential candidates for her position this week, according to Assistant City Manager Patrick Gallegos.
Beatley's colleague in the Finance Department, accountant Dan Dillon, reflected on his time in town. "It's been an honor to serve the citizens of Seal Beach for the past six years," he said. Dillon's son beamed, "Way to go, Dad!" and snapped a picture.
McKinney was not at Monday's meeting.
As far as replacements for Dillon and McKinney, Gallegos wrote in an email to the Sun: "We will be actively recruiting and look forward to hiring qualified professionals."
Outgoing Mayor and District Two Councilman Thomas Moore presented plaques to the retiring employees after highlighting their careers. Representatives for local, state and federal politicians also handed out certificates of recognition, including from Congressman Harley Rouda's office, Assemblyman Tyler Diep's office, State Senator Tom Umberg's office and Orange County Supervisor Michelle Steel's office.
In her presentation, Suzie Price, a Long Beach City Councilwoman and an Orange County Deputy District Attorney, commended Miller and the Seal Beach Police Department. She credited Miller with forming a partnership with the Long Beach Police Department that she said is tackling safety issues in the Los Cerritos wetlands. She also praised the SBPD force for its diligent work saying it has a reputation for following through on cases that the OCDA's office handles. Of SBPD officers, Price said, "Every single one of them is a class act."
City Manager Ingram said the four employees will be incredibly missed. "They are people that truly care on a personal level," she said.